For Faculty and Staff of Emory University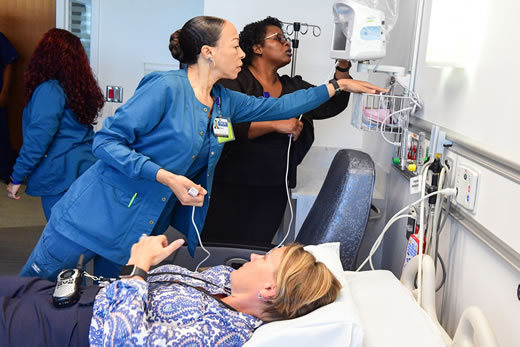 Emory Healthcare provided $73.5 million in charity care in FY 2016-2017
During the last year, Emory Healthcare provided $73.5 million in charity care, which includes care for patients with no health insurance, not even Medicare or Medicaid, and no resources of their own. Over this same time, Emory medical faculty also provided $24.6 million in unreimbursed care at Grady Memorial Hospital.
---
---
Helping the brain prune bad habits
A drug that stimulates neuron pruning can nudge mice away from habit-driven behaviors when combined with retraining, Emory neuroscientists have found.
---
Tamika Kendrick: Answering the call for help
As Florida residents fled the devastation of Hurricane Irma earlier this fall, Emory Police Communications Manager Tamika Kendrick headed in the other direction -- volunteering to answer 911 calls in Naples, Florida, striving to be "the first calming voice on the phone."
---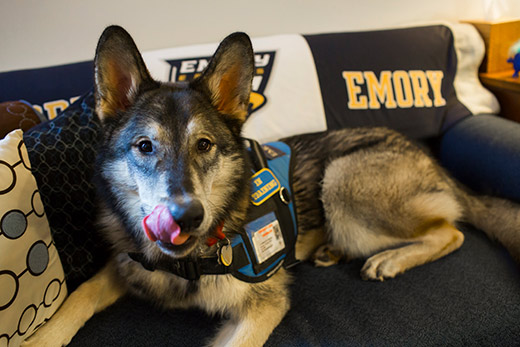 A new fuzzy face in Emory's Counseling and Psychological Services
Meet Finn, the little brother of Emory's first therapy dog, Beowulf. Expect to see this friendly fellow helping out at special events throughout the year.
Pet Therapy Study Break
Adorable dogs greeted students at Woodruff Library on Thursday, Dec. 7, for the sixth-annual Pet Therapy Study Break. View more photos of the fun.
---
Emory in the snow
Emory was blanketed in white Friday, Dec. 8, when a rare early December snowstorm prompted the university to close for the afternoon, reopening at noon on Saturday. While students enjoyed an unexpected break from final exams, staff leapt into action to keep roads safe and essential services running. See more photos.
Emory Insider: Transportation
Holiday shuttle service: If you use Emory shuttles to get to work or to travel around or between campuses, be aware that most shuttle routes will offer modified or limited service starting Dec. 18. Shuttles will return to regular service on Monday, Jan. 8.
Men's Basketball: Emory vs. Guilford
Cheer on the Eagles as they take on the Guilford College Quakers in a post-finals, mid-December contest.
When: Dec. 16, 2:00 p.m.
Where: Woodruff PE Center, Gym
Admission: Free
Editor: Laura Douglas-Brown
Associate Vice President for Media Relations: Nancy Seideman
Interim Senior Vice President for Communications and Public Affairs: Vince Dollard

Emory Report is published by  Communications and Public Affairs
Read the Emory Report Guidelines
Copyright 2022 Emory University | All Rights Reserved
201 Dowman Drive, Atlanta, Georgia 30322 USA | 404.727.6123