For Faculty and Staff of Emory University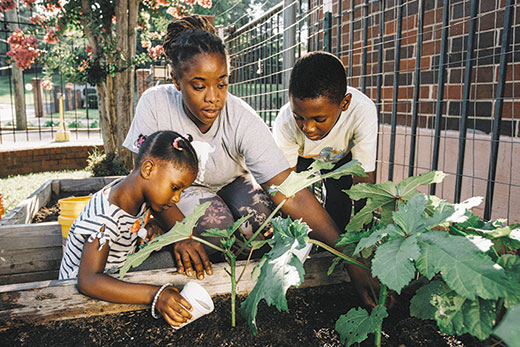 From tiny seeds communities flourish
Thanks to a community grant from Emory's HERCULES Exposome Research Center, low-income West-side Atlanta residents have been planting food gardens in their yards. It is only one of several community outreach projects the center has funded in Atlanta.
---
Emory Healthcare Call Center honors a colleague with heart screening
When Michelle Martin, a team lead at the Emory Healthcare Call Center, suffered a fatal heart attack during a work break, her co-workers were devastated. Emory doctors and staff stepped forward to arrange heart screenings for all call center employees, who turned out to be at high risk for heart disease.
---
Crane's 'Eating Ethically' draws inspiration from Emory classroom
Jonathan K. Crane, Raymond F. Schinazi Scholar in Bioethics and Jewish Thought at Emory's Center for Ethics, uses philosophy, physiology and theology to explore contemporary eating habits in his latest book, "Eating Ethically: Religion and Science for a Better Diet."
---
---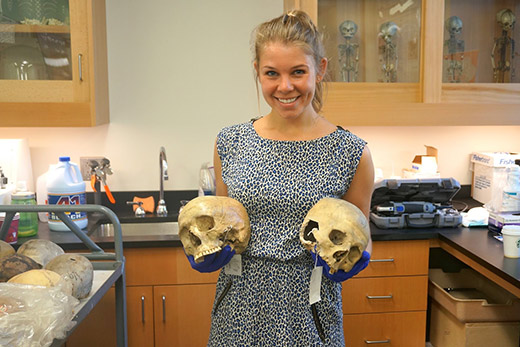 Have skull drill, will travel
"Anthropological genetics is a huge and growing field," says Kendra Sirak. The Emory graduate student has developed a specialized technique for drilling into ancient skulls to remove DNA samples.
Stay informed if weather turns severe: In the event of severe weather conditions, the university may announce delays or cancellations of normal campus activities. With winter approaching, take time to review how you can stay informed about possible closings and delays.
Beam-signing for new Campus Life Center
As construction continues on Emory's new Campus Life Center, students had the opportunity Dec. 5 to have their messages and signatures become a permanent part of the new campus landmark. See more photos.
Christmas with the Atlanta Master Chorale
Enjoy the Atlanta Master Chorale as they sing toward a sense of peace and togetherness. A second performance is Sunday, Dec. 10, at 4 p.m.
When: Dec. 9, 8:00 p.m.
Where: Schwartz Center for Performing Arts, Emerson Concert Hall
Admission: $35; $30 discount categories; $10 students
Men's Basketball: Emory vs. Guilford
Cheer on the Eagles as they take on the Guilford College Quakers in a post-finals, mid-December contest.
When: Dec. 16, 2:00 p.m.
Where: Woodruff PE Center, Gym
Admission: Free
Editor: Laura Douglas-Brown
Associate Vice President for Media Relations: Nancy Seideman
Interim Senior Vice President for Communications and Public Affairs: Vince Dollard

Emory Report is published by  Communications and Public Affairs
Read the Emory Report Guidelines
Copyright 2022 Emory University | All Rights Reserved
201 Dowman Drive, Atlanta, Georgia 30322 USA | 404.727.6123