For Faculty and Staff of Emory University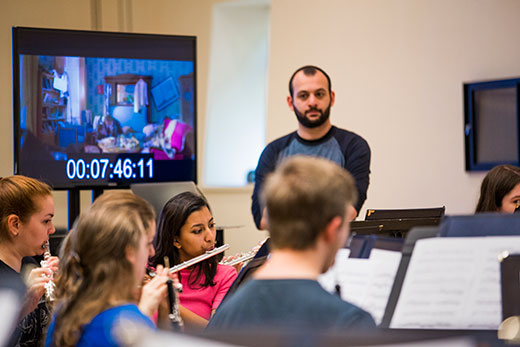 Emory makes music for the big screen
"In Her Image," the new film by Emory alumnus Nikoloz Kevkhishvili, premieres Friday with a score composed by Richard Prior, director of performance studies; conducted by Paul Bhasin, director of wind studies; and performed live by students in the Emory Wind Ensemble.
---
---
---
---
---
---
Center for Women celebrates 25 years
This year marks the 100th anniversary of women at Emory and the 25th anniversary of the Center for Women. Chanel Craft Tanner, the center's new director, discusses advocacy and resources for women who learn, teach and work on campus.
Emory joins the Atlanta Pride Parade
A large contingent from Emory joined in the Atlanta Pride Parade on Sunday, Oct. 15, taking to the streets of Midtown Atlanta to celebrate the fight for LGBT equality. View more photos.
Discounts for Emory employees: Emory partners with Sparkfly to offer discounts for employees on restaurants, attractions, shopping, travel and more. Fall discounts include tickets to Six Flags Fright Fest and the Atlanta Hawks. Sign in with your Emory network ID and password.
Jazz on the Green
Chill out on a crisp fall evening to the cool music of Emory Jazz Ensembles led by maestro Gary Motley.
When: Oct. 19, 6:00 p.m.
Where: Patterson Green
Admission: Free
Benefits Annual Enrollment Webinar
Learn about 2018 employee benefits and enrollment without leaving your desk with this hour-long webinar.
When: Oct. 20, 12:30 p.m.
Where: Online
Admission: Free
 

Canvas Course Copy
When: Oct. 18, 11:00 a.m.
Where: Woodruff Library, Room 314
Admission: Free

 
 
 
 

Intro to QGIS
When: Oct. 18, 2:00 p.m.
Where: Woodruff Library, Room 312
Admission: Free

 
 
 
 

WaterHub Tour
When: Oct. 19, 10:00 a.m.
Where: WaterHub on Peavine Creek Drive
Admission: Free

 
 
 
 
 
 
 
 
 
 
 
 
 

Emory Wind Ensemble
When: Oct. 20, 8:00 p.m.
Where: Schwartz Center for Performing Arts, Emerson Concert Hall
Admission: Free

 

A Day in the Andes Family Event
When: Oct. 22, 12:00 p.m.
Where: Michael C. Carlos Museum, Plaza Level
Admission: Free to museum members; included with admission for non-members

 

Vienna Boys Choir
When: Oct. 22, 4:00 p.m.
Where: Schwartz Center for Performing Arts, Emerson Concert Hall
Admission: $55; $44 discount categories; $5 Emory students

 
 
 
 
 
 
 
 
 

Lecture: Ramayana
When: Oct. 24, 7:30 p.m.
Where: Michael C. Carlos Museum, Ackerman Hall
Admission: Free
Editor: Laura Douglas-Brown
Executive Director of Communication: Susan Carini
Interim Senior Vice President for Communications and Public Affairs: Vince Dollard

Emory Report is published by  Communications and Public Affairs
Read the Emory Report Guidelines
Copyright 2022 Emory University | All Rights Reserved
201 Dowman Drive, Atlanta, Georgia 30322 USA | 404.727.6123