For Faculty and Staff of Emory University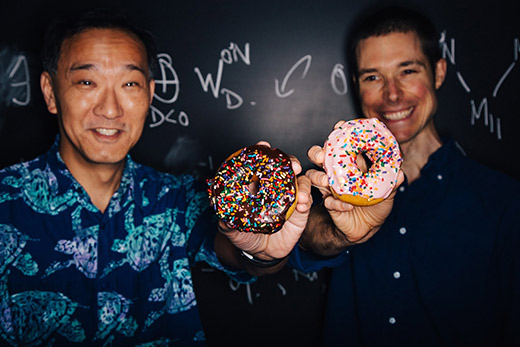 The math of doughnuts: 'Moonshine' sheds light on elliptic curves
In the simplest terms, an elliptic curve is a doughnut shape with carefully placed points, explain Emory mathematicians Ken Ono and John Duncan. "The whole game in the math of elliptic curves is determining whether the doughnut has sprinkles and, if so, where exactly the sprinkles are placed," Duncan says. Their new theory helps to do just that.
---
Emory acquires letter to Jack Kerouac that inspired 'On the Road'
A 60-year-old letter credited by American Beat Generation writer Jack Kerouac as the inspiration for his novel "On the Road" has been acquired by Emory's Rose Library. The letter will be on display for "The Dream Machine," a campus exhibit on the Beat Generation opening tonight.
---
---
---
Emory Sustainable Food Fair returns Friday
A class of Emory College students invites the entire Emory community to come out Friday to learn about sustainable food practices and sample tasty treats at the 12th annual Sustainable Food Fair.
---
Frankenstein's creation, unveiled
Renowned portrait artist Ross Rossin unveiled his large-scale portrait of Dr. Frankenstein's creation, described in Mary Shelley's 1818 novel "Frankenstein," during a public discussion Sept. 19 at the Schwartz Center for Performing Arts. The portrait is now on display in the center's lobby. See more photos.
Emory Insider: Activities
Take a walk in Lullwater: Fall brings the return of Meet Me @ Lullwater, a series of weekly walks in Lullwater Preserve to help add physical activity to your workday. Meet at the Lullwater gate on Wednesdays at 12 p.m. through Nov. 15 to enjoy weekly themes and prizes.
The Phillis Wheatley Reading: Ayana Mathis
Prose writer Ayana Mathis reads from her works, followed by a book signing and reception. A colloquium with Mathis will be Oct. 4 at 4 p.m. in Room N301 of the Callaway Center.
When: Oct. 3, 6:30 p.m.
Where: Woodruff Library, Jones Room
Admission: Free
Jazz on the Green
Bring friends and family and enjoy outdoor performances by the Emory Jazz Ensembles on this fall evening.
When: Oct. 5, 6:00 p.m.
Where: Patterson Green
Admission: Free
 
 
 
 
 
 
 
 
 

Grading in Canvas
When: Oct. 3, 9:00 a.m.
Where: Woodruff Library, Room 314
Admission: Free

 
 

WaterHub Tour
When: Oct. 3, 1:30 p.m.
Where: WaterHub on Peavine Drive
Admission: Free

 
 
 
 
 
 
 
 
 
 
 
 
Editor: Laura Douglas-Brown
Executive Director of Communication: Susan Carini
Interim Senior Vice President for Communications and Public Affairs: Vince Dollard

Emory Report is published by  Communications and Public Affairs
Read the Emory Report Guidelines
Copyright 2022 Emory University | All Rights Reserved
201 Dowman Drive, Atlanta, Georgia 30322 USA | 404.727.6123