For Faculty and Staff of Emory University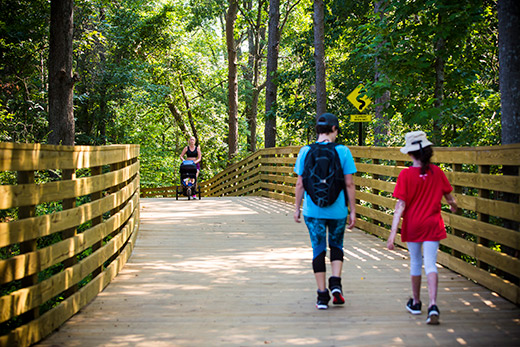 Planned trail to offer new options for cyclists, pedestrians
Plans to develop a new bicycle/pedestrian trail that would link Emory's Clairmont Campus to Mason Mill Park -- and points beyond -- are rolling forward. Cyclists and pedestrians could then follow traffic-restricted Starvine Way onto the university's main campus, opening up new commuting and recreation options for the Emory community.
---
---
Meet Emory authors at this weekend's Decatur Book Festival
Novelist Stacia Pelletier, chief writer for the Office of the President, joins a diverse range of Emory faculty and staff with appearances at the Decatur Book Festival. Learn more about her new novel and see the full schedule of Emory participants.
---
---
---
---
Oxford Olympics
First-year students at Oxford College faced off Monday, Aug. 21, in the Oxford Olympics, a tradition on the Oxford campus geared toward making new friends while battling in lighthearted, often silly competitions. View the full gallery.
---
Emory Songfest
Woodruff PE Center was packed on Thursday evening, Aug. 24, as first-year Emory College students competed in Songfest, a beloved tradition where students from each residence hall perform an original song about their new home. See more photos.
Get a SafeRide on campus: If you are traveling alone on campus after dark, contact SafeRide to get a free shuttle, golf cart, vehicle or walking escort to your destination. The SafeRide service is available for both employees and students from 9 p.m. to 5 a.m.
The Opioid Epidemic: A National Emergency
Hear leading public health, law enforcement and clinical experts discuss the national opioid epidemic. Remote viewing available.
When: Sept. 5, 12:00 p.m.
Where: Emory University Hospital, Auditorium
Admission: Free
 
 
 
 
 

WaterHub Tour
When: Aug. 31, 10:00 a.m.
Where: WaterHub on Peavine Creek Drive
Admission: Free

 
 

Canvas Discussions
When: Sept. 1, 11:00 a.m.
Where: Woodruff Library, Room 314
Admission: Free

 
 
Editor: Laura Douglas-Brown
Executive Director of Communication: Susan Carini
Interim Senior Vice President for Communications and Public Affairs: Vince Dollard

Emory Report is published by  Communications and Public Affairs
Read the Emory Report Guidelines
Copyright 2022 Emory University | All Rights Reserved
201 Dowman Drive, Atlanta, Georgia 30322 USA | 404.727.6123