For Faculty and Staff of Emory University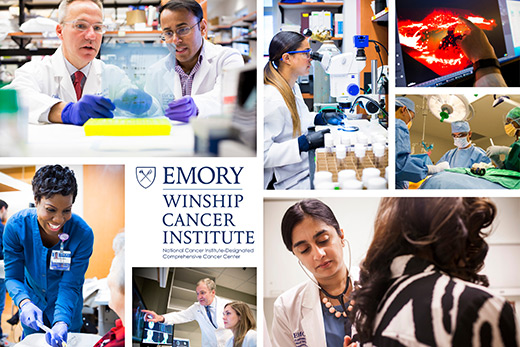 Winship awarded NCI-designated comprehensive cancer center status
Winship Cancer Institute of Emory University has earned the prestigious comprehensive cancer center designation from the National Cancer Institute, placing it in the top one percent of all cancer centers in the United States.
---
---
---
Summer brings robust schedule of events to Emory
From bassoonists to athletes, high school debaters to future doctoral scholars, visitors will quicken the pace on campus this summer. Events kick into high gear this weekend, when Emory hosts Georgia's Special Olympics Summer Games.
---
---
Climate change is in Atlanta's air
For her undergraduate thesis, 2017 Emory College graduate Emily Li investigated how climate change is affecting air quality, pollution and health in Atlanta. Her findings are compiled on the website, Climate Change is in the Air, as a resource for local residents.
---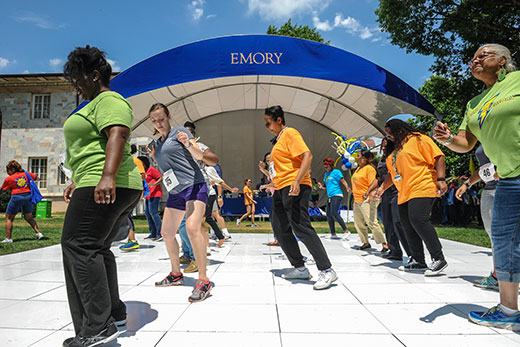 Emory employees offer a bold showing at Staff Fest 2017
The theme for this year's Staff Fest was "Be Bold - Be Emory," and thousands of university employees turned out Friday, May 12, to do just that. Attendees enjoyed games, music, a catered lunch, a fun run-walk and the popular volleyball tournament.
Cool off with a swim in the SAAC pool: Emory faculty and staff may buy discounted memberships to the Student Activity and Academic Center on Emory's Clairmont Campus; special summer-only memberships are available. You can also purchase a daily walk-up pass for $10.
Compassion Meditation Group
All are welcome to this free weekly meditation group, held every Wednesday.
When: May 17, 5:00 p.m.
Where: Cannon Chapel, Room 206
Admission: Free
Bike to Work Day Celebration
Cyclists and supporters enjoy breakfast from General Muir and EarthFare, guided stretching from Empower Yoga, free bike repairs, information fair and group ride.
When: May 19, 7:00 a.m.
Where: Emory Point
Admission: Free
Atlanta Master Chorale: "Ein Deutsches Requiem"
The Atlanta Master Chorale performs work by Johannes Brahms. Second performance Sunday at 4 p.m.
When: May 20, 8:00 p.m.
Where: Schwartz Center for Performing Arts, Emerson Concert Hall
Admission: $30; $25 discount categories; $10 students
 
 
 
 

Canvas 101
When: May 18, 1:30 p.m.
Where: Woodruff Library, Room 314
Admission: Free

 
 
 
 
 

Canvas 101
When: May 23, 1:00 p.m.
Where: Woodruff Library, Room 314
Admission: Free

 
 
 
Editor: Laura Douglas-Brown
Executive Director of Communication: Susan Carini
Interim Senior Vice President for Communications and Public Affairs: Vince Dollard

Emory Report is published by  Communications and Public Affairs
Read the Emory Report Guidelines
Copyright 2022 Emory University | All Rights Reserved
201 Dowman Drive, Atlanta, Georgia 30322 USA | 404.727.6123