For Faculty and Staff of Emory University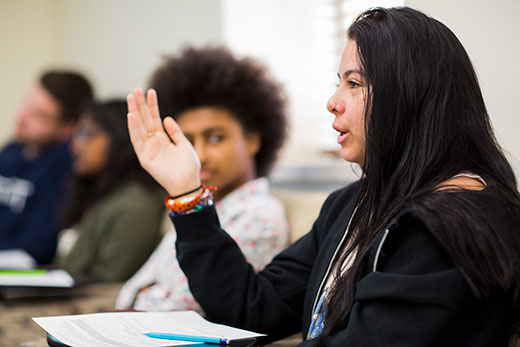 For Emory undergrads, learning new perspectives on health is easy as 1, 2, 3
To change the way college students talk about health, the first step is for students to do the talking. That's the innovative approach of Emory's peer-taught Health 1,2,3 Program.
---
---
---
Employee Town Hall serves up information, entertainment
At last week's Employee Council Town Hall, Emory staff members enjoyed a buffet meal and musical performances, with remarks from President Claire E. Sterk and time to talk informally with Sterk and other university leaders.
---
Fecal transplant replants microbial garden
When facing a life-threatening infection, the "yuck factor" is a minor concern. In a new video, Emory physicians explain how FMT (fecal microbial transplant) restores microbial balance when a patient's internal garden has been disrupted.
---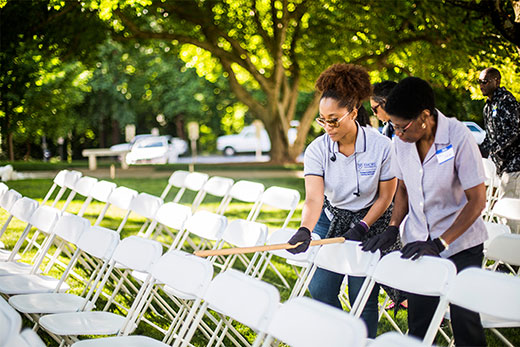 Volunteers needed to help with Chair Rodeo, Commencement Day
Emory staff members are invited to join in the university's rich history of service to the graduating class, their families and guests by volunteering at Commencement. Opportunities begin May 3 with the annual Chair Rodeo.
International Festival and World Cup Tournament
Emory's fourth annual International Festival and World Cup Tournament took place Friday, April 14, involving more than 30 student organizations highlighting their cultures through food, activities, musical performances and a World Cup Soccer Tournament hosted by Play Emory.
Wear jeans tomorrow for Denim Day: On Wednesday, the Emory community is urged to wear denim to show support for survivors of sexual assault and the larger goal of ending interpersonal violence. Tag and share your photos to help raise funds for the Respect Program.
Jazz On The Green
Bring a picnic and celebrate National Jazz Appreciation Month with this outdoor concert.
When: April 20, 6:00 p.m.
Where: Patterson Green
Admission: Free
State of the Woodruff Health Sciences Center Address
Jonathan Lewin, president, CEO and chair of the board for Emory Healthcare, discusses the Woodruff Health Sciences Center. Reception follows on the WHSCAB Plaza.
When: April 25, 4:30 p.m.
Where: WHSCAB Auditorium
Admission: Free
 
 
 
 
 
 
 
 
 
 
 
 
 

Concert: Ransom Notes
When: April 21, 12:00 p.m.
Where: Michael C. Carlos Museum, Ackerman Hall
Admission: Free

 
 
 
 
 

Emory Wind Ensemble
When: April 21, 8:00 p.m.
Where: Schwartz Center for Performing Arts, Emerson Concert Hall
Admission: Free

 

The Heel to Heal Superhero 5k
When: April 22, 9:30 a.m.
Where: SAAC field and Lullwater Preserve
Admission: $30 online; $35 at the event; kids under 10 are free

 
 
 

Stageworks 2017
When: April 22, 7:00 p.m.
Where: Performing Arts Studio
Admission: Free

 
 
 

Emory Concert Choir
When: April 23, 7:00 p.m.
Where: Schwartz Center for Performing Arts, Emerson Concert Hall
Admission: Free

 
 
 
 
 
 
 
 
Editor: Laura Douglas-Brown
Executive Director of Communication: Susan Carini
Interim Senior Vice President for Communications and Public Affairs: Vince Dollard

Emory Report is published by  Communications and Public Affairs
Read the Emory Report Guidelines
Copyright 2022 Emory University | All Rights Reserved
201 Dowman Drive, Atlanta, Georgia 30322 USA | 404.727.6123