For Faculty and Staff of Emory University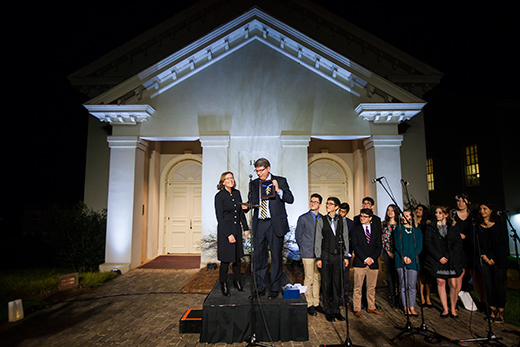 Oxford lights the way for President Sterk's inauguration
Events celebrating President Claire E. Sterk's inauguration as Emory's 20th president got underway Monday evening with a candle-lit tour of Oxford College, the university's original campus. Her formal inauguration ceremony is set for Wednesday morning.
---
Emory president joins national petition to rescind executive order
Emory University President Claire E. Sterk and 47 other American college and university presidents sent a letter to President Trump urging him to "rectify or rescind the recent executive order closing our country's borders to immigrants and others from seven majority-Muslim countries and to refugees from throughout the world."
---
Ebola grant expanded from $12 million to $24 million
A $12 million grant awarded in 2015 to establish the National Ebola Training and Education Center, co-led by Emory, has been doubled to allow for a variety of expanded services, including creation of a special pathogens research network.
---
---
---
---
Inauguration of Claire E. Sterk, 20th President of Emory University
Steeped in ceremony and tradition, the convocation will feature remarks from President Sterk, a keynote address from Emory neurosurgeon and CNN chief medical correspondent Sanjay Gupta, a performance by the Vega Quartet and a commissioned poem by Kevin Young.
When: Feb. 8, 10:00 a.m.
Where: Glenn Memorial Auditorium
Admission: Free with ticket required; view live online at president.emory.edu
In the Eye of the Storm: The Story of Aleppo
Join professors Hilary Gopnik and Roxani Margariti of the Department of Middle Eastern and South Asian Studies to explore what has been lost in this city decimated by civil war.
When: Feb. 9, 7:30 p.m.
Where: Michael C. Carlos Museum, Ackerman Hall
Admission: Free
Teodross Avery with the Gary Motley Trio
Saxophonist Teodross Avery joins Gary Motley, Rodney Whitaker, and Carl Allen in concert for the Emory Jazz Fest.
When: Feb. 10, 8:00 p.m.
Where: Schwartz Center for Performing Arts, Emerson Concert Hall
Admission: $20; $15 discount category members; $5 Emory students
 
 
 

WaterHub Tour
When: Feb. 8, 1:00 p.m.
Where: Emory WaterHub, Peavine Creek Drive
Admission: Free

 
 
 
 
 
 
 
 
 
 
 
 
 
 
 
 
 
 
 
 
 

Big Band Night
When: Feb. 11, 8:00 p.m.
Where: Schwartz Center for Performing Arts, Emerson Concert Hall
Admission: Free

 
 
 
 
 
 
 
Editor: Laura Douglas-Brown
Executive Director of Communication: Susan Carini
Interim Senior Vice President for Communications and Public Affairs: Vince Dollard

Emory Report is published by  Communications and Public Affairs
Read the Emory Report Guidelines
Copyright 2022 Emory University | All Rights Reserved
201 Dowman Drive, Atlanta, Georgia 30322 USA | 404.727.6123