For Faculty and Staff of Emory University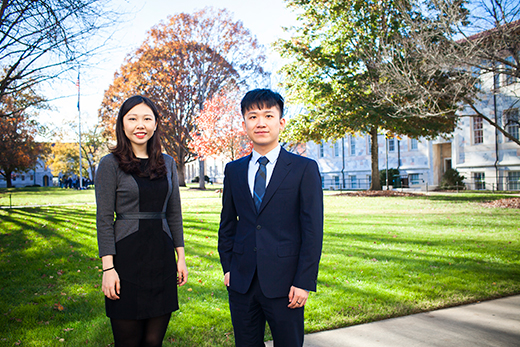 Emory senior, recent graduate named 2017 Schwarzman Scholars
Emory senior Caiwei Huang and alumnus Zihao Zhang are among 129 students from across the globe awarded Schwarzman Scholarships for graduate study next year in China. They are Emory's first Schwarzman Scholars.
---
---
---
Upward mobility boosts immunity in monkeys
The chronic stress of life with low social status can alter the immune system of rhesus macaques, even in the absence of other risk factors, according to a new study conducted at Emory's Yerkes National Primate Research Center.
---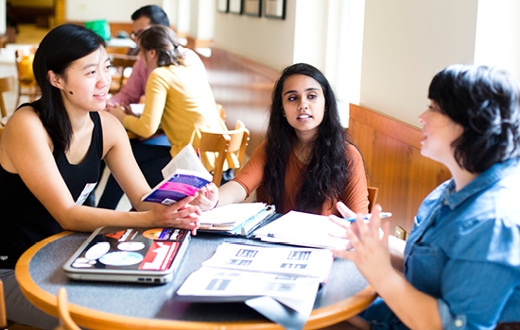 How Emory is redesigning nursing education
At the Nell Hodgson Woodruff School of Nursing, a new curriculum built around the care continuum across the lifespan prepares students to shape the future of health care.
Quilt on the Quad for World AIDS Day
On Dec. 1, World AIDS Day, Emory once again hosted the nation's largest collegiate display of panels from the AIDS Memorial Quilt. Hundreds of panels, each handmade in honor of someone who died from AIDS, covered the grass for the 12th annual Quilt on the Quad event. View more photos.
---
A Festival of Nine Lessons and Carols
Emory welcomed the holiday season with A Festival of Nine Lessons and Carols, held Friday, Dec. 2, and Saturday, Dec. 3, in Glenn Memorial Auditorium. A tradition since 1935, the service featured Christmas choral music with readings by special guests from the Emory community. See more photos.
---
The Bard and Poetry
As Shakespeare's First Folio nears the end of its visit to campus, the Emory community gathered Dec. 5 for "The Bard and Poetry," an evening of readings from acclaimed poets Natasha Trethewey, Kevin Young and Jericho Brown. You can see the First Folio at the Michael C. Carlos Museum through Dec. 11. View more photos.
Get ready for cold and flu season: Emory's WorkLife Resource Center has compiled information and resources to help you prepare for cold and flu season. Learn about flu shots, tips to stay healthy and ways to keep from infecting others if you do get sick.
Financial Wellness: Holiday Budgeting
Join this live, online talk for guidance on how to budget sensibly for the added expenses of the holidays.
When: Dec. 7, 1:00 p.m.
Where: Online
Admission: Free
WaterHub Tours
Explore Emory's innovative water reclamation facility with student-led tours.
When: Dec. 7, 2:00 p.m.
Where: WaterHub on Peavine Drive
Admission: Free
Christmas with Atlanta Master Chorale
Enjoy the Chorale's most popular concert of the season, with a second show Dec. 11 at 4 p.m.
When: Dec. 10, 8:00 p.m.
Where: Schwartz Center for Performing Arts, Emerson Concert Hall
Admission: $30; $25 discount categories; $10 students
 

Canvas 101
When: Dec. 7, 10:00 a.m.
Where: Woodruff Library, Room 314
Admission: Free

 
 
 
 
 
 
 
 
 
 
 
 
 
 
Editor: Laura Douglas-Brown
Executive Director of Communication: Susan Carini
Interim Senior Vice President for Communications and Public Affairs: Vince Dollard

Emory Report is published by  Communications and Public Affairs
Read the Emory Report Guidelines
Copyright 2022 Emory University | All Rights Reserved
201 Dowman Drive, Atlanta, Georgia 30322 USA | 404.727.6123