For Faculty and Staff of Emory University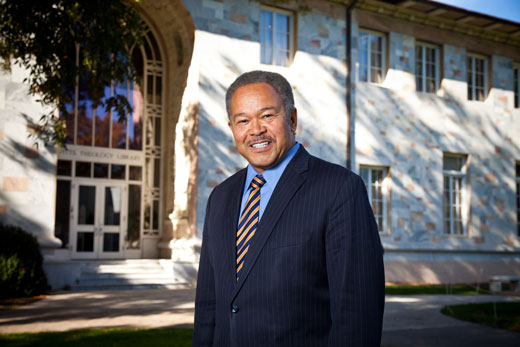 Robert M. Franklin appointed as senior adviser to the president
Emory President Claire E. Sterk has appointed Robert M. Franklin as senior adviser to the president. Franklin, the inaugural James T. and Berta R. Laney Chair in Moral Leadership, brings a broad portfolio of academic leadership and faculty experience to his newest Emory role.
---
---
---
---
Sleeping and waking up: Anesthesia and the brain
Paul Garcia is an Emory neuroanethesiologist who not only provides anesthesia care to patients undergoing neurosurgery, but researches the way anesthetic drugs interact with the brain. In a new video, he talks about his science background and work in hypersomnia research.
---
---
Homecoming Parade, Festival and Concert
Students and alumni celebrated Homecoming last week with dozens of events, culminating Saturday, Sept. 24, with the annual parade, festival and concert. View more photos.
Need to see a doctor? Emory employees can get expedited appointments with Emory physicians by calling the Employee Appointment Line at 8-EVIP. Senior-level call agents are available Monday through Friday from 8 a.m. to 5 p.m. to assist you.
Buddha in a Shopping Bag
Explore uses of sacred Buddhist images and ways in which contemporary artists are depicting and transforming Buddhist symbols.
When: Sept. 28, 7:30 p.m.
Where: Michael C. Carlos Museum, Ackerman Hall
Admission: Free
The Too-Busy City: Atlanta and Urbanity
Examine developments in Atlanta's history including the expressway network, MARTA and the 1996 Olympic Games.
When: Sept. 29, 6:30 p.m.
Where: Bill and Carol Fox Center for Humanistic Inquiry, Seminar Room
Admission: Free
Sustainable Food Fair
Learn about sustainable and local food, featuring tastes from Atlanta chefs and produce from local farmers and vendors at this student-led event.
When: Sept. 30, 10:30 a.m.
Where: Cox Bridge
Admission: Free
 
 
 
 
 
 
 
 

Faith and Economic Justice
When: Sept. 28, 6:00 p.m.
Where: Candler School of Theology, Rita Anne Rollins Building, Room 252
Admission: Free

 
 
 
 
 
 
 
 
 
 

Winship Win the Fight 5K
When: Oct. 1, 7:00 a.m.
Where: McDonough Field
Admission: $40 for non-chipped timed runners and walkers; $45 for a timing chip

 
 
 
 
 
 
 
 
 
Editor: Laura Douglas-Brown
Executive Director of Communication: Susan Carini
Associate Vice President for Communications and Marketing: David Johnson
Senior Vice President for Communications and Public Affairs: Jerry Lewis

Emory Report is published by  Communications and Public Affairs
Read the Emory Report Guidelines
Copyright 2022 Emory University | All Rights Reserved
201 Dowman Drive, Atlanta, Georgia 30322 USA | 404.727.6123