For Faculty and Staff of Emory University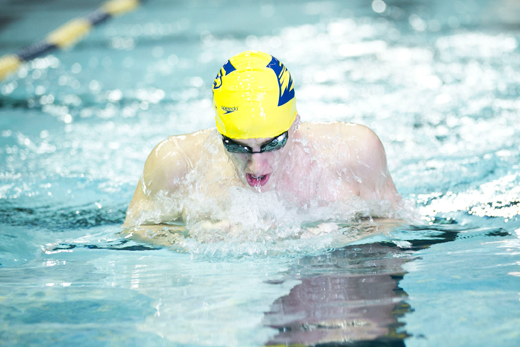 Emory swimmers to compete in 2016 Olympic trials
After a breakout performance at last year's national championships, Andrew Wilson will compete for a spot on Team USA in Rio de Janeiro. Joining him at the Olympic trials next week will be Emory teammates Christian Baker and Oliver Smith, as well as PhD student Maddie Locus.
---
Emory Winship celebrates 5,000th bone marrow transplant patient
The lawn in front of the School of Medicine is filled with flags honoring the 5,000 patients who have received bone marrow or stem cell transplants at Emory's Winship Cancer Institute. The milestone represents Winship's depth of expertise and experience in performing transplants for both blood cancers and disorders like sickle cell anemia.
---
CHAMPS Network announces selection of sites in three countries
Every year, nearly six million children under the age of five die, mostly from preventable circumstances. The Child Health and Mortality Prevention Surveillance Network, which includes the Emory Global Health Institute, will partner with organizations in South Africa, Mozambique and Mali to better understand and prevent such deaths.
---
---
---
'Denial' trailer offers first look at film based on Emory professor's memoir
Due out this fall, "Denial" recounts Emory professor Deborah Lipstadt's internationally publicized legal battle against a Holocaust denier. Academy Award winner Rachel Weisz portrays Lipstadt.
Health care incentives: Summer is a great time to take steps to earn your health care incentives! If you are covered on the Emory medical plan, you can save money on your medical expenses by getting an annual checkup, completing an online health assessment, and more.
Romeo and Juliet
Theater Emory presents Shakespeare's classic love story with performances through Nov. 13.
When: Nov. 3, 7:30 p.m.
Where: Dobbs University Center, Mary Gray Munroe Theater
Admission: $22; $18 discount categories; $6 students
 

WaterHub Tours
When: Nov. 2, 1:00 p.m.
Where: WaterHub on Peavine Drive
Admission: Free

 
 
 
 
 
 
 
 
 
 
 
 
 
 
 
 
 
 
 
 

Canvas 101
When: Nov. 7, 2:00 p.m.
Where: Woodruff Library, Room 314
Admission: Free

 
 
 
 
 
 
 
Editor: Laura Douglas-Brown
Executive Director of Communication: Susan Carini
Associate Vice President for Communications and Marketing: David Johnson
Senior Vice President for Communications and Public Affairs: Jerry Lewis

Emory Report is published by  Communications and Public Affairs
Read the Emory Report Guidelines
Copyright 2020 Emory University | All Rights Reserved
201 Dowman Drive, Atlanta, Georgia 30322 USA | 404.727.6123