For Faculty and Staff of Emory University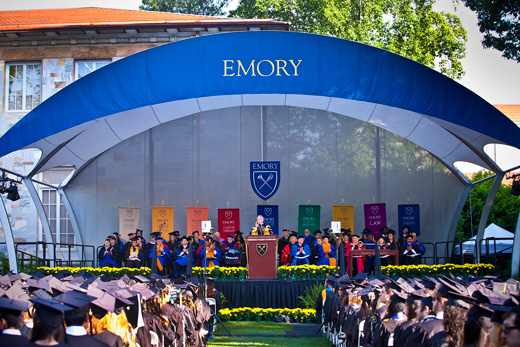 Honorary degrees celebrate pioneers
As 15,000 attendees gather on the Quad for Emory's 171st Commencement, the University will confer honorary degrees on international autism advocate Temple Grandin, Nobel-winning economist Amartya Sen, and the person behind one of Emory's major literary jewels, the Raymond Danowski Poetry Library.
---
---
---
Eye travels the world to find his calling at home
Praised for his academic achievements and generous spirit, Emory Law student Will Eye credits his widowed mother for teaching him about compassion and plans to use his law degree to advocate for social change.
---
---
| | | |
| --- | --- | --- |
| | | CLASS OF 2016: LANEY GRADUATE SCHOOL |
Chiou utilizes anthropology to understand hospital culture
For Howard Chiou, who will receive his PhD from Laney Graduate School, studying hospital culture through the lens of anthropology offers a way to understand medical errors. A joint PhD/MD student, he graduates from Emory's School of Medicine next year.
---
Chair Rodeo
Emory employees volunteered their time on Wednesday, May 4, to help set up thousands of chairs on the Quad for Monday's Commencement. The annual "Chair Rodeo" is a popular Emory tradition. See more photos of the volunteers at work.
Commencement webcast: If you are not attending Monday's Commencement, you can still view the ceremony online. Watch the live webcast of the University-wide Commencement, including the keynote address by William Foege, starting at 9 a.m., followed by the Emory College diploma ceremony at 10:45 a.m.
"Though the logic may be convoluted, the lesson is simple: The consequences of tie votes are unpredictable. They may deprive the public of guidance on important legal issues, but they may also result in the justices reaching issues they might not otherwise have reached."
Jonathan R. Nash, The Hill, May 4, 2016
Oxford College Commencement
Keynote address by Oxford and Emory alumnus Henry Anthony, vice president of human resources for Rollins, Inc.
When: May 7, 10:00 a.m.
Where: Oxford College Quadrangle
Admission: Free
In Dialogue: Conversations with the Provost
Small-group conversation focuses on strengthening faculty diversity at Emory
When: May 11, 4:15 p.m.
Where: Stuart A. Rose Manuscript, Archives and Rare Book Library
Admission: Free
 

Shepard Award Oral Presentation and Luncheon
When: May 6, 11:00 a.m.
Where: Rollins School of Public Health, Claudia Nance Rollins Building, Lawrence P. and Ann Estes Klamon Room
Admission: Free; all Rollins students, faculty and staff are welcome

 
 
 
 
 
 
 
 
 
 
 
 

Laney Graduate School Reception
When: May 8, 4:00 p.m.
Where: Emory Conference Center Hotel, Lullwater Ballroom
Admission: Free; open to master's and PhD candidates, families and guests

 
 
 
 
 
 

The Vega String Quartet
When: May 14, 8:00 p.m.
Where: Schwartz Center for Performing Arts, Emerson Concert Hall
Admission: Free

 
 
 
 

Panel: Compassion and Global Health
When: May 23, 4:00 p.m.
Where: Rollins School of Public Health, Claudia Nance Rollins Building, Lawrence P. and Ann Estes Klamon Room
Admission: Free
Editor: Laura Douglas-Brown
Executive Director of Communication: Susan Carini
Associate Vice President for Communications and Marketing: David Johnson
Senior Vice President for Communications and Public Affairs: Jerry Lewis

Emory Report is published by  Communications and Public Affairs
Read the Emory Report Guidelines
Copyright 2018 Emory University | All Rights Reserved
201 Dowman Drive, Atlanta, Georgia 30322 USA | 404.727.6123