For Students of Emory University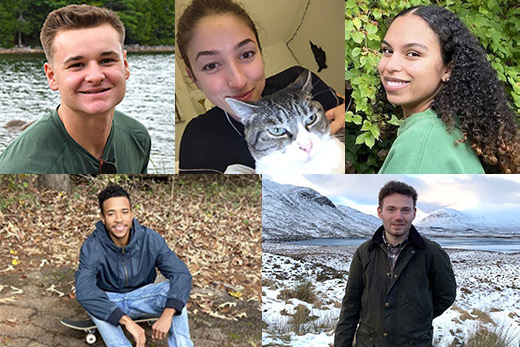 Youth views on climate crisis take the world stage
Emory students and alumni are raising diverse voices on equity during this year's United Nations Framework Convention on Climate Change, now underway in Glasgow. From cohosting seminars to moderating discussions, undergraduate and graduate students in Eri Saikawa's Climate and Society class are making key contributions virtually. Learn how you can view their presentations.
---
---
---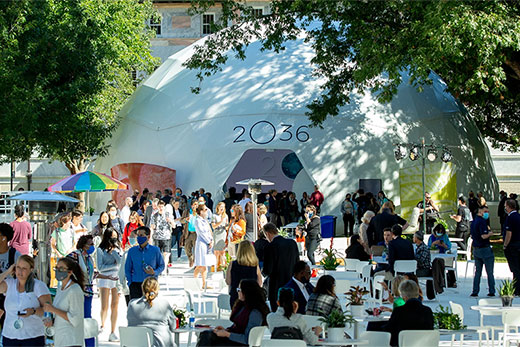 2O36 campaign charts bold course for Emory's future
Faculty, staff and students gathered on the Quad to celebrate the public launch of 2O36, a campaign focused on investing in people for the benefit of people. Named for Emory's bicentennial, 2O36 includes priorities across the university, as well as special emphasis on three core areas: student flourishing, faculty eminence and research excellence.
---
---
---
Emory Arts shares a wide array of diverse programs in November
Peruse museum exhibits, attend a concert, listen to an author reading or watch Emory Dance Company perform during the next few weeks. Arts enthusiasts can enjoy these events and more across campus in November.
First-Gen Week: Celebrate Emory's first-generation community Nov. 8-12 with other first-gen students, faculty and staff. In partnership with campus offices and first-gen undergraduate and graduate student groups, Emory First-Gen Week will feature opportunities to learn more about first-gen resources and communities at Emory as well as panels, receptions and meet-ups. Learn more about First-Gen Week and view the schedule of events.
Help others: Join other students for Emory Cares Day on Saturday, Nov. 13, as a way to give back to the community. Atlanta campus activities will kick off at 11 a.m. on McDonough Plaza; register through The Hub. Oxford College students will continue their tradition of supporting the Newton County Department of Family and Children Services; meet in the Oxford Student Center at 10 a.m. Visit the Emory Cares project page and filter by "Cause served" and "Emory community" to register.
Student Studio: Bronze Pour at the Carlos
Artists from Atlanta's Inferno Foundry bring their portable foundry for a bronze pour. Explore extraordinary works of bronze in the Carlos collections with a gallery guide written by Emory student Lizzie Meulbroek. Then pick up a scratch mold and carve your own design. First come, first served, while supplies last.
When: Nov. 5, 1:00 p.m.
Where: Michael C. Carlos Museum, Plaza Level and Tate Room
Admission: Free
"The Sum of Us": An Emory Community Conversation with Heather McGhee
Heather McGhee, author of "The Sum of Us: What Racism Costs Everyone and How We Can Prosper Together," discusses the benefits of people coming together across race to build an equitable future. Afterwards, Jill Perry-Smith of Goizueta Business School moderates a conversation exploring the economic, education, health, climate and civic engagement topics central to Emory and the Atlanta community.
When: Nov. 10, 5:30 p.m.
Where: Online
Admission: Free; registration required
 

Documentary Screening: "Hunger Ward"
When: Nov. 4, 6:00 p.m.
Where: Rollins School of Public Health, Claudia Nance Rollins Building, Rollins Auditorium
Admission: Free; registration required

 
 

Concert: Emory Chamber Ensembles
When: Nov. 7, 4:00 p.m.
Where: Schwartz Center for Performing Arts, Emerson Concert Hall
Admission: Free; registration and proof of COVID-19 vaccination or negative test result required

 
 
Editor: Leigh DeLozier
Executive Director of Communications and Editor in Chief: Laura Douglas-Brown
Interim Vice President of Communications and Marketing: Cameron Taylor

Dooley Report is published by  Communications and Public Affairs
Read the Dooley Report Guidelines
Copyright 2022 Emory University | All Rights Reserved
201 Dowman Drive, Atlanta, Georgia 30322 USA | 404.727.6123