For Students of Emory University
Wednesday, Sept. 29, 2021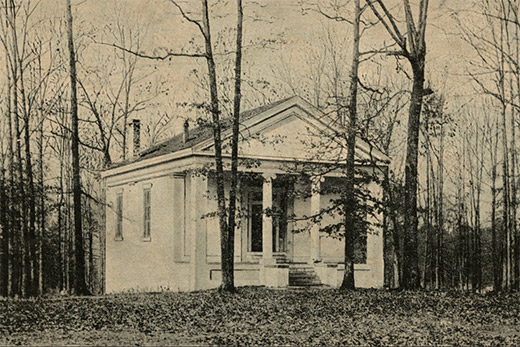 Emory unpacks history of slavery and dispossession
Emory sits on land that belonged to the Muscogee (Creek) Nation and enslaved people constructed buildings on the university's original campus. "In the Wake of Slavery and Dispossession," a symposium Sept. 29 – Oct. 1, examines Emory's history and journey towards restorative justice.
---
---
Atlanta Mayoral Candidate Forum: If you'll be voting in the upcoming election for Atlanta's mayor, hear from the candidates during a free forum at Emory on Tuesday, Oct. 5, at 7 p.m. WSB-TV's Jocelyn Dorsey will moderate the event at Glenn Memorial Auditorium. Register to attend or get the livestream link.
The Future Starts with You
Help kick off 2O36, Emory's campaign focused on investing in people for the benefit of people. On Friday, Oct. 22, from 10 a.m. to 3 p.m., The Quad will be open to you for an immersive experience like no other — interactive domes, food, giveaways and more! No registration required.

Webinar: "Learning from Women in our Latino Community"
This reflection from Sister Teresa Maya will draw from the experience of the Latina woman's faith experience of radical hospitality, unfolding mercy and accompaniment. The webinar is a part of the Aquinas Center's "What's Next?" lecture series.
When: Sept. 30, 7:30 p.m.
Where: Online
Admission: Free; registration required
Symposium: "The Pandemic of Diabetes: 100 Years After the Discovery of Insulin"
Diabetes continues to rage as a slow and silent killer worldwide, even 100 years after the discovery of insulin. Learn about new research and treatments, plus current challenges and opportunities during this symposium hosted by the Emory Global Diabetes Center. Emory President Gregory L. Fenves and Provost Ravi Bellamkonda will share brief remarks.
When: Oct. 1, 10:00 a.m.
Where: Online
Admission: Free; registration required
Decatur Book Festival with Carol Anderson
Anderson will discuss her latest nonfiction book, "The Second: Race and Guns in a Fatally Unequal America," moderated by WABE's Rose Scott.
When: Oct. 2, 10:15 a.m.
Where: First Baptist Church of Decatur
Admission: Free; registration required
Decatur Book Festival with Tiphanie Yanique
Yanique will be part of the literary fiction panel, discussing her new novel, "Monster in the Middle," which releases Oct. 19, moderated by Nicole Stamant of Agnes Scott College.
When: Oct. 2, 12:45 p.m.
Where: First Baptist Church of Decatur
Admission: Free; registration required
 
 
 
 

Concert: Pretty Yende, Soprano
When: Oct. 3, 4:00 p.m.
Where: Schwartz Center for Performing Arts, Emerson Concert Hall
Admission: $60; Emory students $10

 
 
 
 
 
 
Editor: Leigh DeLozier
Executive Director of Communications and Editor in Chief: Laura Douglas-Brown
Interim Vice President of Communications and Marketing: Cameron Taylor

Dooley Report is published by  Communications and Marketing
Read the Dooley Report Guidelines
Copyright 2022 Emory University | All Rights Reserved
201 Dowman Drive, Atlanta, Georgia 30322 USA | 404.727.6123