For Students of Emory University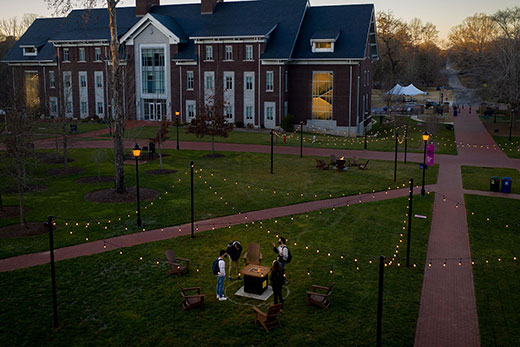 Bringing connection and comfort to campus
"Hygge" refers to the Scandinavian way of creating a cozy, vibrant, comfortable environment that evokes feelings of wellness and contentment. A new Oxford College initiative brings the concept to life for students living on and off campus.
---
---
---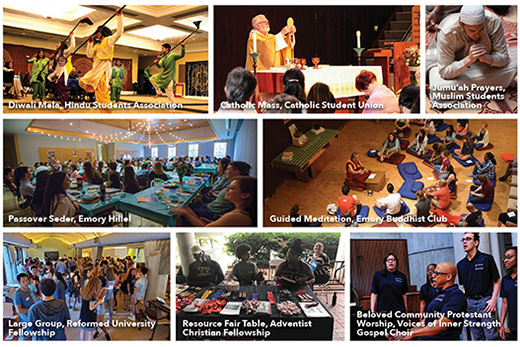 Emory community invited to shape spiritual life
Students and other stakeholders are invited to help shape an inclusive way forward for Emory's religious, spiritual and interfaith life through a new strategic planning process.
---
---
---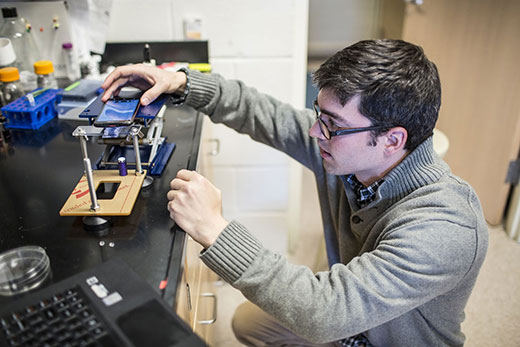 NIH grant funds Emory work on indoor air sensor for SARS-CoV-2
Emory received a National Institutes of Health grant to develop a sensor capable of detecting SARS-CoV-2, the virus that causes COVID-19, in the air of indoor spaces. The project will adapt technology developed by Emory graduate Kevin Yehl while he was a PhD student in Khalid Salaita's chemistry lab.
COVID-19 VACCINE TOWN HALL
BLACK HISTORY MONTH EVENTS
Emory Community Conversation: "The Black Box"
Valerie Babb, Andrew Mellon Professor of Humanities, and Jessica Lynn Stewart, assistant professor of African American studies, will lead a conversation on the construction of race, the difficulties individuals experience with Black versus African American, intraracial dynamics and the many intersections of Black identity.
When: Feb. 18, 12:00 p.m.
Where: Online
Admission: Free; registration required
Lecture and Conversation: "Following the Path of a Transformed Nonconformist"
Hear Emory alum the Rev. Adam Russell Taylor speak. Taylor is the new president of Sojourners and a former faith and advocacy leader at the World Bank and World Vision. He is the author of "Mobilizing Hope: Faith-Inspired Activism for a Post-Civil Rights Generation."
When: Feb. 19, 3:30 p.m.
Where: Online
Admission: Free; registration required
Faculty Showcase with Jericho Brown and Emory's New Faculty
Join in celebrating the extraordinary research, creativity and diversity of Emory's faculty. Sponsored by the Office of Faculty Affairs, the event features the poetry of Professor Jericho Brown, Pulitzer Prize winner in poetry in 2020, and offers interactive engagement with new faculty from across the campus and disciplines, ranging from the humanities to the social and natural sciences.
When: Feb. 22, 4:00 p.m.
Where: Online
Admission: Free; registration required
Conversation with Roxane Gay and Tameka Cage Conley: "We Mend and Remember"
Oxford College hosts Roxane Gay, iconic cultural critic and bestselling author whose widely revered work has advanced modern feminist thought, critical race theory and how we consider the world of politics and popular culture. She will be in conversation with Tameka Cage Conley, Oxford assistant professor of English and creative writing.
When: Feb. 23, 7:30 p.m.
Where: Online
Admission: Free; registration required
Discussion: "Black Men in White Coats"
Watch the documentary dissecting the systemic barriers preventing Black men from becoming medical doctors and the consequences on society at large, then join the online panel discussion moderated by Professor Sheryl Heron of the Department of Emergency Medicine and Yolanda Hood, director of the Office of Multicultural Affairs within Emory School of Medicine.
When: Feb. 24, 12:00 p.m.
Where: Online
Admission: Free; registration required
Editor: Leigh DeLozier
Vice President for Enterprise Communications: Douglas Busk
Senior Vice President for Communications and Public Affairs: David Sandor

Dooley Report is published by  Communications and Public Affairs
Read the Dooley Report Guidelines
Copyright 2022 Emory University | All Rights Reserved
201 Dowman Drive, Atlanta, Georgia 30322 USA | 404.727.6123