For Students of Emory University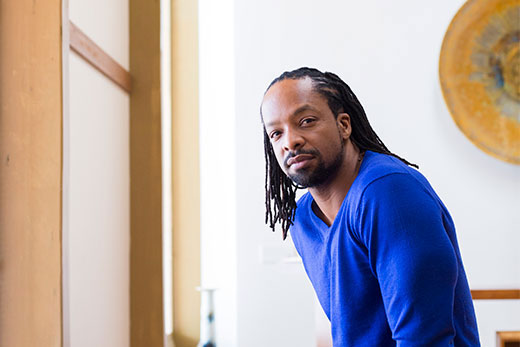 Science Gallery Atlanta launches video series on coping and resilience
The "Connect and Cope" video series launches Friday, Nov. 20, with professor Jericho Brown sharing his Pulitzer Prize-winning poetry and discussing the importance of creativity in connecting with the world. Emory students will host the online events, which will feature faculty and staff from across the university.
---
---
---

Stopping COVID-19
Emory earned a record $831 million in research funding for the past fiscal year and ranks #3 nationwide in NIH awards for COVID-19 among universities, as researchers shifted course rapidly to tackle the biggest public health crisis in more than 100 years. Plus: See how Emory is helping find answers to six big COVID-19 questions.
---
---
---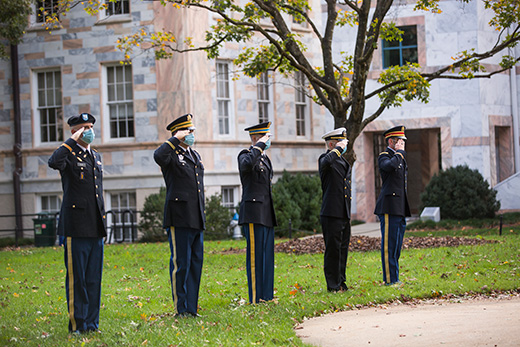 Paying tribute to veterans and their leadership
Emory's 12th annual Veterans Day commemoration featured a ceremony with student-veterans and a panel discussion with alumni service members sharing their perspectives on leading through crisis.
New procedures: Emory University's COVID-19 screening program for asymptomatic individuals is transitioning to a saliva-based collection platform (replacing the rapid antigen nasal swab). This new testing platform is highly sensitive, provides increased testing capacity for the Emory community and employs a significantly more comfortable collection methodology. Students living on campus in residence halls during winter break will be required to test each week. Learn more.
EGHI 2020 Global Health Scholars Symposium
The Emory Global Health Institute's 2020 field scholars will share their global health research and lessons learned during their summer experiences. Winners of the HACK COVID-19 hackathon also will present their projects.
When: Nov. 19, 12:00 p.m.
Where: Online
Admission: Free; registration required
JWJI 2020 Election Forum: "What Happened and Why?"
Panelists will discuss results of the 2020 elections, moderated by Andra Gillespie. Political scholars from Duke, University of California at Riverside, Princeton and Emory will participate.
When: Nov. 19, 6:00 p.m.
Where: Online
Admission: Free; registration required
Dooley's Players: "Arsenic and Old Lace"
Reserve your spot to watch Dooley's Players perform the comedy "Arsenic and Old Lace." Performances will be online Friday, Saturday and Sunday.
When: Nov. 20, 7:30 p.m.
Where: Online
Admission: Free; registration required
Editor: Leigh DeLozier
Vice President for Enterprise Communications: Douglas Busk
Senior Vice President for Communications and Public Affairs: David Sandor

Dooley Report is published by  Communications and Public Affairs
Read the Dooley Report Guidelines
Copyright 2022 Emory University | All Rights Reserved
201 Dowman Drive, Atlanta, Georgia 30322 USA | 404.727.6123