For Students of Emory University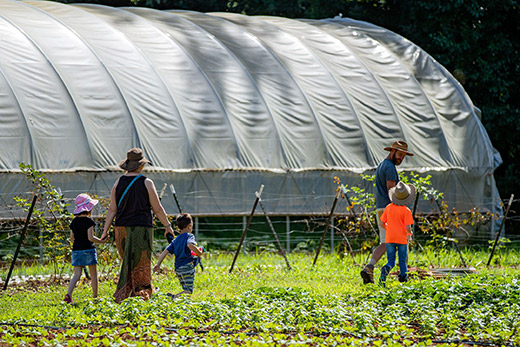 From Georgia farms to Emory tables
In partnership with The Conservation Fund, Emory makes a bold commitment to support the next generation of local farmers -- and Emory Law students helped draft the initial memorandum of understanding.
---
---
---
Iron Curtain's consequences still evident for former West Germany
The border that split post-war Germany has long fascinated scholars who explored its impact on the Communist East. Emory historian Astrid Eckert's new book flips that narrative, examining the lasting consequences for what was West Germany. Hear her speak on campus Thursday.
---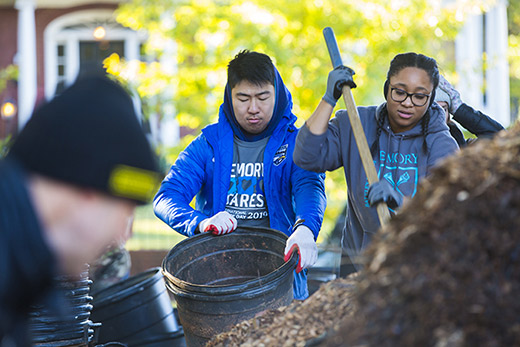 Students help the community through Emory Cares International Service Day
Approximately 1,600 members of the Emory community registered to participate in the 16th annual Emory Cares International Service Day on Saturday, Nov. 9. Students joined teams at project sites in Atlanta and beyond, sorting medical supplies, planting trees and much more.
---
---
---
---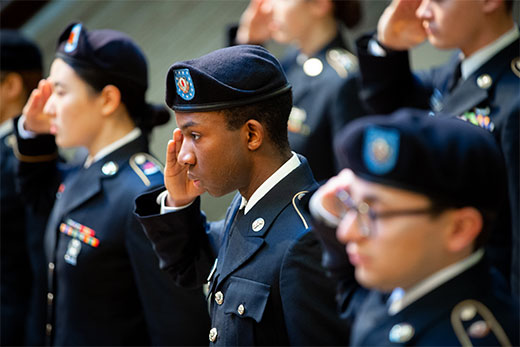 Emory pays tribute to veterans
The Emory community gathered in Cannon Chapel on Monday for the university's 11th annual Veterans Day ceremony. Learn how Emory serves veterans and view photos from the ceremony.
Emory President Claire E. Sterk announces retirement
President Claire E. Sterk has notified the Emory University Board of Trustees that she will be retiring as president, effective August 2020. The Board has accepted her retirement and will be launching a search for a successor.
---
Emory celebrates National First-Gen Day
Students, faculty and staff gathered Nov. 9 on the Quad to celebrate Emory's first-generation college students with activities and treats. First-gen students make up 11 percent of the Emory College Class of 2023.
Thank a donor: The fourth annual EmoryThanks Day will be Thursday, Nov. 14. Faculty, staff and students are invited to stop by one of 11 stations across campus (including one on the Oxford campus) to write a note and make photos or videos thanking Emory donors for their support.
Student Sign-Up: Thanksgiving Partner Program
International students are invited to experience a Thanksgiving holiday meal with professors. Sign up by Friday, Nov. 15, to participate.
When: Nov. 15, 11:59 p.m.
Where: Register online
Admission: Free; registration required
Latinx Graduate Student Reception
Connect and build community with other Latinx graduate students over refreshments and drinks.
When: Nov. 18, 4:00 p.m.
Where: AMUC, Room 116
Admission: Free
 
 
 
 
 
 
 
 
 
 
 

Theater Emory: "The Nether"
When: Nov. 15, 7:30 p.m.
Where: Schwartz Center for Performing Arts, Theater Lab
Admission: $15 / $12 / $5 students and industry

 
 

Crochet a Cozy
When: Nov. 18, 2:00 p.m.
Where: Cox Hall Tech Lab
Admission: Free; registration required

 

Haircuts for Hope
When: Nov. 18, 2:30 p.m.
Where: Longstreet-Means Hall Lobby
Admission: Free; registration required

 
 
 
 
 
Editor: Laura Douglas-Brown
Vice President for Enterprise Communications: Doug Busk
Senior Vice President for Communications and Public Affairs: David B. Sandor

Dooley Report is published by  Communications and Public Affairs
Read the Dooley Report Guidelines
Copyright 2022 Emory University | All Rights Reserved
201 Dowman Drive, Atlanta, Georgia 30322 USA | 404.727.6123