For Students of Emory University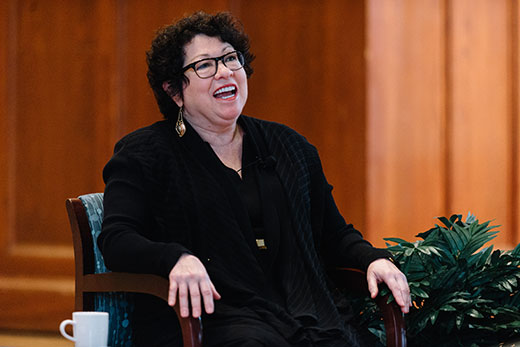 Supreme Court Justice Sonia Sotomayor visits Emory Law
In a conversation with Emory constitutional law scholar Fred Smith Jr., Sonia Sotomayor, associate justice of the U.S. Supreme Court, reflected on her personal experiences and how the crux of law is "about helping people."
---
---
---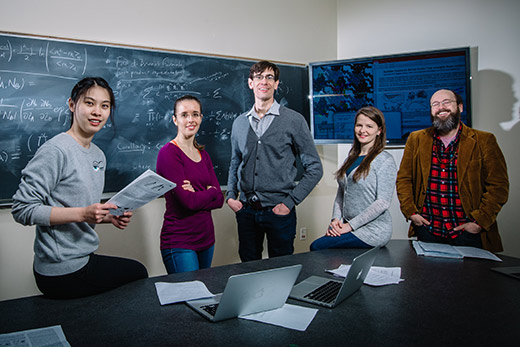 New method calculates equilibrium constant at the small scale
Mixing computational chemistry and theoretical math proved a winning formula for Emory chemist James Kindt and graduate students Xiaokun Zhang, Lara Patel, Olivia Beckwith and Robert Schneider. The result? A new, fast method to calculate equilibrium constants using small-scale simulations -- even when the Law of Mass Action does not apply.
---
Emory Alumni Association announces 2018 Emory Medal recipients
Emory's highest alumni award will be presented to H. Kenneth Walker, a physician and professor, and to nursing alumni Crystal Johnson, Laura Mitchell-Spurlock and Jason Slabach, who were part of the Emory Healthcare team that treated patients with Ebola virus disease.
---
---
School of Nursing in top five in NIH research funding for the past three years
Emory's Nell Hodgson Woodruff School of Nursing is once again among the top five nursing schools in the U.S. for funding from the National Institutes of Health. In 2017, the school received $7.8 million in NIH funding.
Emory Insider: Giving Back
Join in Emory's annual day of giving: "All in a Day" continues through noon Thursday, offering fun and easy ways to support what inspires you through gifts to any part of the university. Learn more about how you can give online, including gift-matching challenges and other special incentives.
Can We Know What It's Like to Be a Dog?
Professors Greg Berns and Mark Risjord debate whether current neuroscience can provide meaningful insights into the subjective experiences of other animals.
When: Feb. 8, 4:00 p.m.
Where: Atwood Chemistry Center, Room 360
Admission: Free
Jazz Fest 2018: Big Band Night
Emory's Gary Motley performs with guest jazz musicians Peter Erskine, Darek Oles, the Emory Big Band and members of the Emory University Symphony Orchestra, conducted by Emory composer-conductor Richard Prior.
When: Feb. 10, 8:00 p.m.
Where: Schwartz Center for Performing Arts, Emerson Concert Hall
Admission: Free; tickets required
Lecture: "The Divine Felines of Ancient Egypt"
Brooklyn Museum curator Yekaterina Barbash explores the various roles of cats and lions in Egypt in conjunction with the Carlos Museum's latest exhibition.
When: Feb. 11, 4:00 p.m.
Where: Michael C. Carlos Museum, Ackerman Hall
Admission: Free
 
 
 
 
 
 
 
 
 
 
 
 
 
 
 
 
 
 
 
 
 
 
 
 
 
 
 

WaterHub Tour
When: Feb. 13, 2:30 p.m.
Where: WaterHub on Peavine Drive
Admission: Free

 
 
 
 
 
 
Editor: Laura Douglas-Brown
Associate Vice President for University Communications: Nancy Seideman
Interim Senior Vice President for Communications and Public Affairs: Vince Dollard

Dooley Report is published by  Communications and Public Affairs
Read the Dooley Report Guidelines
Copyright 2022 Emory University | All Rights Reserved
201 Dowman Drive, Atlanta, Georgia 30322 USA | 404.727.6123