For Students of Emory University
'Bunk': Kevin Young's new book examines the rise of hoaxes
In his acclaimed new book, Emory University Distinguished Professor Kevin Young explores the history of hoaxes and fakers, and how they continue to shape our culture.
---
Emory governance groups oppose proposed tax bills
As Emory continues to advocate for changes in Republican tax reform proposals, the university's top governance groups have contacted Capitol Hill about provisions in both House and Senate bills that would negatively impact higher education.
---
Student films on U.S. political movements debut tonight
Students in an Emory College history class are analyzing U.S. political movements by learning about digital storytelling and multimedia production. See their work at tonight's "Documenting the Right" Student Film Festival.
---
---
eXtraordinarY: New clinic for X and Y chromosome variations
One day a month, the recently opened "eXtraordinarY" clinic sees two to three young patients in Emory Clinic B. While its patient base is small, its reputation is growing as a resource for families affected by sex chromosome variations.
---
New catalyst controls activation of a carbon-hydrogen bond
Emory chemists working in Huw Davies' lab have led the development of another catalyst that can selectively activate a carbon-hydrogen bond, part of an ongoing strategy to revolutionize the field of organic synthesis and open up new chemical space.
---
Bacteria in a beetle make it a leaf-eater
In a paper published in Cell, lead author and Emory post-doctoral fellow Hassan Salem finds that a leaf-eating beetle has evolved a symbiotic relationship with bacteria that allows the insect to break down pectin -- part of a plant's cell wall that is indigestible to most animals.
---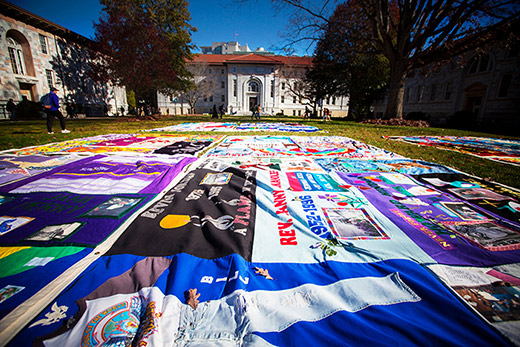 Quilt on the Quad honors World AIDS Day
On Friday, Emory marks World AIDS Day with Quilt on the Quad, the nation's largest collegiate display of panels from the AIDS Memorial Quilt. Learn more about the event and Emory's 20 years of groundbreaking HIV research.
Need help with writing? The Emory Writing Center provides tutoring for students in Emory College and Laney Graduate School who want help at any stage in the writing process, from exploring ideas to revising drafts to polishing up a final project. Check out the center's extended hours for the last two weeks of the semester.
Emory's Young Artists
Hear performances by some of the most outstanding undergraduate talents from Emory's Department of Music.
When: Dec. 1, 12:00 p.m.
Where: Michael C. Carlos Museum, Ackerman Hall
Admission: Free
A Festival of Nine Lessons and Carols
Participate in this candlelit evening service of choral music and scripture readings, an Emory tradition since 1935. Also on Saturday at 4 and 8 p.m.
When: Dec. 1, 8:00 p.m.
Where: Glenn Memorial Auditorium
Admission: $20; $15 discount categories; $5 students
 
 
 
 

WaterHub Tour
When: Nov. 30, 10:00 a.m.
Where: WaterHub on Peavine Drive
Admission: Free

 
 
 
 
 
 
 
 
 
 
 
 
 
 
 
 
 
 
 
 
 
Editor: Laura Douglas-Brown
Associate Vice President for Media Relations: Nancy Seideman
Interim Senior Vice President for Communications and Public Affairs: Vince Dollard

Dooley Report is published by  Communications and Public Affairs
Read the Dooley Report Guidelines
Copyright 2022 Emory University | All Rights Reserved
201 Dowman Drive, Atlanta, Georgia 30322 USA | 404.727.6123