For Students of Emory University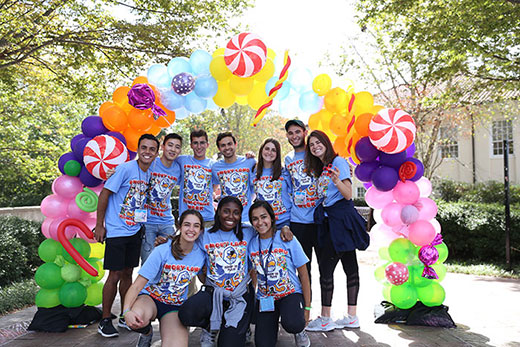 'Emory Land' brings fun and games to Homecoming Week
Emory celebrates Homecoming with "Emory Land," a series of events all week inspired by Candy Land and other classic board games. Homecoming culminates Saturday with the annual parade and concert, this year featuring the Plain White T's.
---
---
---
---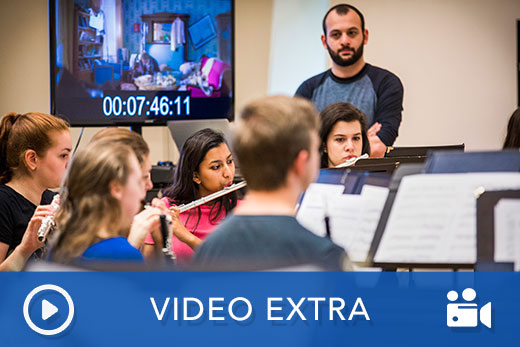 Emory makes music for the big screen
"In Her Image," the new film by Emory alumnus Nikoloz Kevkhishvili, premieres Friday with a score composed by Richard Prior, director of performance studies; conducted by Paul Bhasin, director of wind studies; and performed live by students in the Emory Wind Ensemble.
---
---
---
---
Center for Women celebrates 25 years
This year marks the 100th anniversary of women at Emory and the 25th anniversary of the Center for Women. Chanel Craft Tanner, the center's new director, discusses advocacy and resources for women who learn, teach and work on campus.
Emory joins the Atlanta Pride Parade
A large contingent from Emory joined in the Atlanta Pride Parade on Sunday, Oct. 15, taking to the streets of Midtown Atlanta to celebrate the fight for LGBT equality. View more photos.
Engaging in Civil Discourse at Emory
Join this public forum to learn practical tools and strategies to engage in civil discourse with people of opposing views.
When: Oct. 19, 6:00 p.m.
Where: Woodruff Library, Jones Room
Admission: Free
Fall Undergraduate Research Symposium
Share independent or in-class research projects with the broader Emory community at this two-day symposium. Continues Oct. 21 at 10 a.m.
When: Oct. 20, 3:00 p.m.
Where: Math and Science Center, Lobby
Admission: Free
 

Student Loan Seminar
When: Oct. 19, 12:00 p.m.
Where: Claudia Nance Rollins Building, Klamon Room
Admission: Free

 
 
 
 
 
 
 
 
 
 
 
 
 
 

Emory Wind Ensemble
When: Oct. 20, 8:00 p.m.
Where: Schwartz Center for Performing Arts, Emerson Concert Hall
Admission: Free

 
 
 
 
 
 

Vienna Boys Choir
When: Oct. 22, 4:00 p.m.
Where: Schwartz Center for Performing Arts, Emerson Concert Hall
Admission: $55; $44 discount categories; $5 Emory students

 
 
 
 
 
 
 
 
 
 
 

Lecture: "Ramayana"
When: Oct. 24, 7:30 p.m.
Where: Michael C. Carlos Museum, Ackerman Hall
Admission: Free

 
 
 
 

Haunted Harris
When: Oct. 26, 7:00 p.m.
Where: Harris Hall
Admission: Free
Editor: Laura Douglas-Brown
Associate Vice President for Media Relations: Nancy Seideman
Interim Senior Vice President for Communications and Public Affairs: Vince Dollard

Dooley Report is published by  Communications and Public Affairs
Read the Dooley Report Guidelines
Copyright 2022 Emory University | All Rights Reserved
201 Dowman Drive, Atlanta, Georgia 30322 USA | 404.727.6123