For Students of Emory University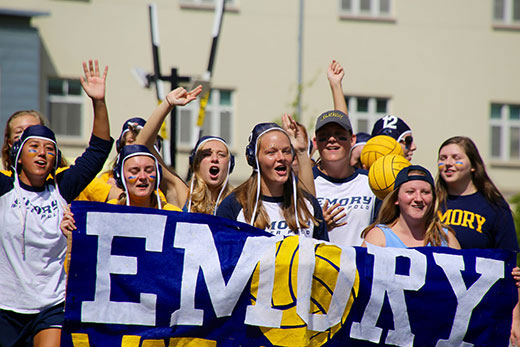 Homecoming, Family Weekend converge with fun activities for all
Emory Homecoming is the week of Oct. 16, packed with activities and traditions for students and alumni. Highlights include "Emory Land" events inspired by Candy Land and other board games, Friday's Homecoming Ball and Saturday's Homecoming Parade and concert with the Plain White T's.
---
Campus forum to focus on civil discourse
"Engaging in Civil Discourse at Emory," a panel discussion showcasing strategies for engaging in conversations and finding common ground with people of opposing views, is set for Thursday, Oct. 19.
---
Trio in biostatistics: 'Role models for us all'
Long-lived collaborations in academia are rare, and female researchers in statistical and math sciences are far from commonplace. So this trio of scientific collaborators in Emory's Department of Biostatistics and Bioinformatics is a phenomenon for these very reasons.
---
---
Navigating the uphill climb from discovery to drugstore
Established in 1985, Emory's Office of Technology Transfer has helped launch 36 pharmaceutical startup companies, and its licensees have developed 19 drugs approved by the FDA -- including one of the most commonly used HIV drugs in the world.
---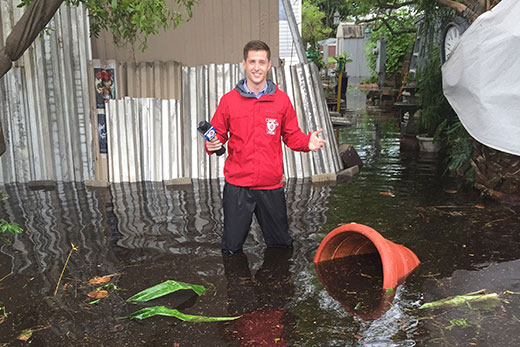 Emory alum reports from the front lines of Hurricane Irma
News footage showed him sopping wet, speaking over gale-force winds as Hurricane Irma neared the Florida coast. One of the youngest reporters in the Miami market, Ian Margol traces his current career back to Emory's liberal arts curriculum.
Vigil for Las Vegas
The Emory community gathered Oct. 4 at the Cox Bridge for a candlelight vigil to remember the victims of the Las Vegas shooting. View more photos and learn about the resources Emory offers for students, faculty and staff impacted by recent events.
Help "Win the Fight" against cancer: There is still time to register for the Winship Win the Fight 5K Run/Walk, which steps off Saturday morning, Oct. 14, from the Emory Quadrangle to benefit Winship Cancer Institute. Help raise this year's goal of $1 million to fund cancer research and treatment.
Taste of Dining
Enjoy a sidewalk party with DJ JayyHawk, contests, shows, face painting, a stilt walker and delicious food samples.
When: Oct. 13, 5:00 p.m.
Where: Outside the DUC-ling
Admission: Free
Emory Farmers Market
The Farmers Market is back after a fall break hiatus with seasonal produce, local organic products and prepared treats.
When: Oct. 17, 11:00 a.m.
Where: Cox Hall Bridge
Admission: Free
 
 
 
 
 
 
 
 
 

Winship Win the Fight 5K
When: Oct. 14, 8:30 a.m.
Where: Emory University, Quadrangle
Admission:  $45 with timing chip; $40 without timing chip

 
 
 
 
 
 
 
 

LGBTeas
When: Oct. 16, 3:30 p.m.
Where: AMUC, Room 132
Admission: Free

 
 
 
 
 

WaterHub Tour
When: Oct. 17, 1:30 p.m.
Where: WaterHub on Peavine Creek Drive
Admission: Free

 
 
 
 
 
 
Editor: Laura Douglas-Brown
Associate Vice President for Media Relations: Nancy Seideman
Interim Senior Vice President for Communications and Public Affairs: Vince Dollard

Dooley Report is published by  Communications and Public Affairs
Read the Dooley Report Guidelines
Copyright 2022 Emory University | All Rights Reserved
201 Dowman Drive, Atlanta, Georgia 30322 USA | 404.727.6123