For Students of Emory University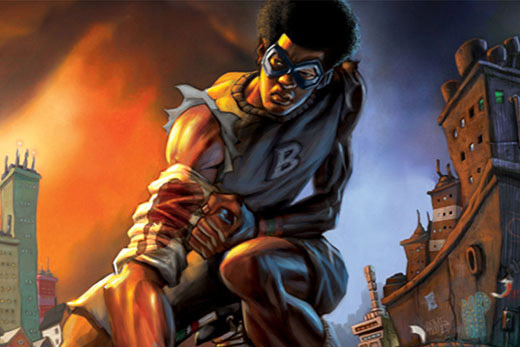 Inside Brotherman's Big City
In 1990, "Brotherman" debuted as one of the first comic books to feature a black hero. Almost three decades later, with help from Emory's digital scholars, this groundbreaking text is reimagined as an immersive, virtual reality world. Take a look inside Big City and learn the story behind its creation.
---
Meet Emory authors at this weekend's Decatur Book Festival
Novelist Stacia Pelletier, chief writer for the Office of the President, joins a diverse range of Emory faculty and staff with appearances at the Decatur Book Festival. Find out more about her new novel and see the full schedule of Emory participants.
---
---
---
---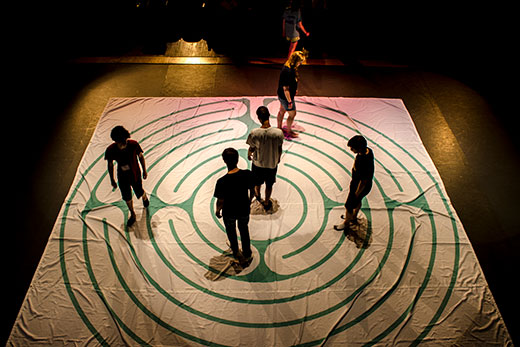 Fall courses engage emerging scholarship, hands-on learning
Across Emory, fall semester courses bring both new insights and historical context to critical issues, tackling topics ranging from big data to big questions like what it means to be human and where human rights come from.
---
---
---
---
---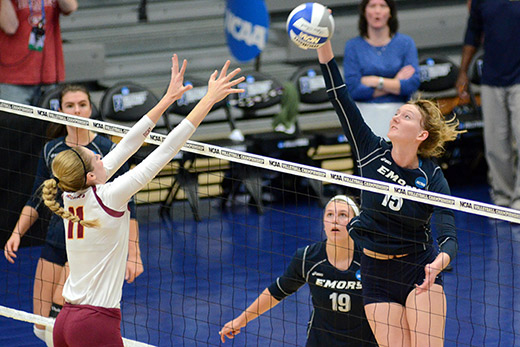 Fall sports teams aim for winning seasons
Emory's volleyball, soccer and cross country teams start their fall seasons Sept. 1, looking to build on last year's success, when all posted winning records and volleyball advanced to the quarterfinals of the NCAA Championships.
Oxford Olympics
First-year students at Oxford College faced off Monday, Aug. 21, in the Oxford Olympics, a tradition on the Oxford campus geared toward making new friends while battling in lighthearted, often silly competitions. View the full gallery.
---
Fall Convocation
Steeped in ceremony and tradition, Emory Fall Convocation marks the official start of the academic year. Held Tuesday, Aug. 22, the event began with a bagpipe procession and closed with the alma mater. See the full gallery.
---
Emory Songfest
Woodruff PE Center was packed on Thursday evening, Aug. 24, as first-year Emory College students competed in Songfest, a beloved tradition where students from each residence hall perform an original song about their new home. See more photos.
Get a SafeRide on campus: If you are traveling alone on campus after dark, contact SafeRide to get a free shuttle, golf cart, vehicle or walking escort to your destination. The SafeRide service is available for both students and employees from 9 p.m. to 5 a.m.
Men's soccer: Emory vs. North Carolina Wesleyan
The first home game of the season sees the men's soccer team, with depth and experience, kick off what they hope will be another successful season.
When: Sept. 1, 4:30 p.m.
Where: Woodruff PE Center
Admission: Free
The Opioid Epidemic: A National Emergency
Hear leading public health, law enforcement and clinical experts discuss the national opioid epidemic. Remote viewing available.
When: Sept. 5, 12:00 p.m.
Where: Emory University Hospital, Auditorium
Admission: Free
Fall 2017 Career and Internship Fair
Speak with nonprofit, government and corporate recruiters hiring for jobs and internships. Open to all years and majors; bring your student ID and resume.
When: Sept. 6, 12:00 p.m.
Where: Woodruff PE Center
Admission: Free
 

WaterHub Tour
When: Aug. 31, 10:00 a.m.
Where: WaterHub on Peavine Creek Drive
Admission: Free

 
 
 
 
 
 
 
 
 
 
Editor: Laura Douglas-Brown
Executive Director of Communication: Susan Carini
Interim Senior Vice President for Communications and Public Affairs: Vince Dollard

Dooley Report is published by  Communications and Public Affairs
Read the Dooley Report Guidelines
Copyright 2022 Emory University | All Rights Reserved
201 Dowman Drive, Atlanta, Georgia 30322 USA | 404.727.6123