For Students of Emory University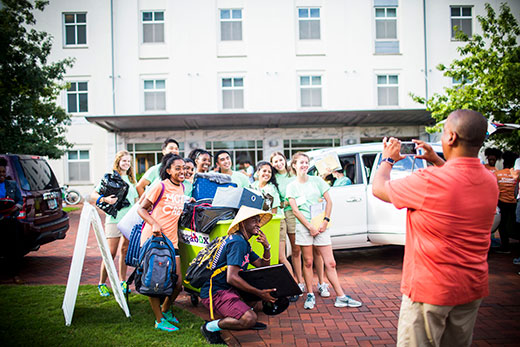 Emory prepares to welcome Class of 2021
As first-year students move into residence halls this weekend, they will be greeted by hundreds of staff and fellow students who devote thousands of hours to help them feel at home on Emory's Atlanta and Oxford campuses.
---
Move-In Day: By the Numbers
From giant bins for carrying luggage to beverages for the traditional Coca-Cola toast, here's a taste of what it takes to make first-year Move-In Day a success.
---
Solar eclipse adds cosmic spin to Emory orientation
On Monday, a total solar eclipse will sweep the United States. Although Atlanta lies just beyond the path of totality, Emory's Class of 2021 will get to experience a nearly total eclipse while attending campus orientation. Find out about viewing options on Emory's Atlanta and Oxford campuses.
---
Emory president issues statement regarding Charlottesville
"The recent events in Charlottesville, Virginia, serve as a stark reminder that although we have made tremendous advances in civil and human rights, we have work to do," President Claire E. Sterk states in a message to the Emory community.
---
---
Emory enjoys unique, longtime partnership with Georgia Tech
The bio-research partnership between Emory University and the Georgia Institute of Technology has produced biomedical discoveries for decades, one of the most dramatic being the recent successful human clinical trial of a microneedle patch for flu vaccines.
---
---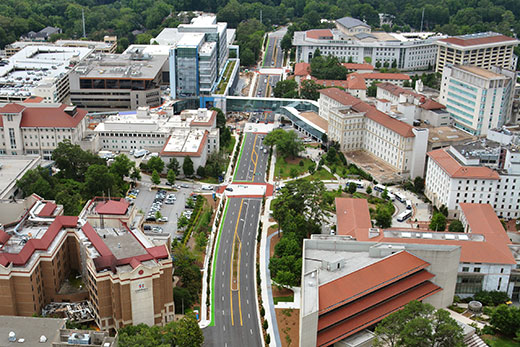 End in sight for Clifton Streetscape Project
Begun in early June 2016, the Clifton Streetscape Project is nearing completion. The past 15 months have seen dramatic changes improving access, pedestrian safety and aesthetics.
Help with digital devices:  Student Technology Support (STS) is a free service providing assistance with a variety of issues on student-owned devices. Need help as the new semester starts? Located on the first floor of Woodruff Library, STS is open 9 a.m. to 5 p.m. Aug. 21-22; usual weekday hours of 10 a.m. to 6 p.m. begin Aug. 23.
Emory Farmers Market: Tomato Festival
Celebrate tomato season as the Emory Farmers Market returns to its weekly schedule for the new academic year.
When: Aug. 22, 11:00 a.m.
Where: Cox Hall Bridge
Admission: Free
WaterHub Tour
Learn how Emory is recycling millions of gallons of water. More tours scheduled throughout August.
When: Aug. 22, 11:00 a.m.
Where: WaterHub on Peavine Creek Drive
Admission: Free
Compassion Meditation Group
All are welcome to this free weekly meditation group, held every Wednesday.
When: Aug. 23, 5:00 p.m.
Where: Cannon Chapel, Room 106
Admission: Free
 
 
 
 

Canvas for TAs
When: Aug. 22, 1:00 p.m.
Where: Woodruff Library, Room 314
Admission: Free

 
 
 
 
 
 

BSA White Out Party
When: Aug. 26, 11:30 p.m.
Where: Black Student Association House
Admission: Free

 
 
 
Editor: Laura Douglas-Brown
Executive Director of Communication: Susan Carini
Interim Senior Vice President for Communications and Public Affairs: Vince Dollard

Dooley Report is published by  Communications and Public Affairs
Read the Dooley Report Guidelines
Copyright 2022 Emory University | All Rights Reserved
201 Dowman Drive, Atlanta, Georgia 30322 USA | 404.727.6123