For Students of Emory University
Wednesday, April 12, 2017
President Carter discusses human rights in Bederman Lecture
Nobel Peace Prize winner Jimmy Carter, the 39th president of the United States and Emory University Distinguished Professor, offered a somber assessment of human rights around the world, but said he's "still hopeful because of the heroism I see."
---
---
---
---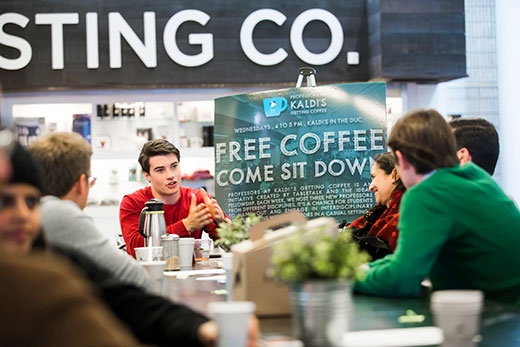 Emory has IDEAS to bolster its liberal arts education
A unique Emory College fellowship program is building an intellectual community of undergraduates who are leading fellow students in how to bridge disciplines and make sense of their education as they head off into the world.
---
---
---
---
Undergraduate Research Week begins Monday at Emory
Emory College's annual Undergraduate Research Week returns Monday, April 17, with a series of events to showcase students' work across a range of disciplines. The six-day event is free and open to the public.
Fresh, organic produce delivered to campus: Buy a subscription to the Oxford College Organic Farm community-supported agriculture program to get fresh vegetables that you pick up weekly at convenient locations on both the Oxford and Emory campuses. Subscriptions for the full season (28 weeks) and spring season (10 weeks) start Thursday, April 27.
2017 Goodrich C. White Lecture and Reading: Junot Diaz
The Pulitzer-winning author of "The Brief Wondrous Life of Oscar Wao" will give a talk and read from his works.
When: April 12, 7:30 p.m.
Where: Schwartz Center for Performing Arts, Emerson Concert Hall
Admission: Free
Black Art Salon at the Edge of the Universe
This culminating program of the Billops-Hatch exhibition will explore the ways black artists continue to push boundaries.
When: April 13, 6:30 p.m.
Where: Woodruff Library, Jones Room
Admission: Free
 
 
 
 
 
 
 
 
 
 
 
 
 
 
 
 

Taste of Africa
When: April 15, 7:00 p.m.
Where: Emory Conference Center Hotel
Admission: $12 online; $15 at the door

 
 
 
 
 
 
 
 

Spring Jazz Concert
When: April 18, 8:00 p.m.
Where: Schwartz Center for Performing Arts, Emerson Concert Hall
Admission: Free

 
 
 
Editor: Laura Douglas-Brown
Executive Director of Communication: Susan Carini
Interim Senior Vice President for Communications and Public Affairs: Vince Dollard

Dooley Report is published by  Communications and Public Affairs
Read the Dooley Report Guidelines
Copyright 2022 Emory University | All Rights Reserved
201 Dowman Drive, Atlanta, Georgia 30322 USA | 404.727.6123