For Students of Emory University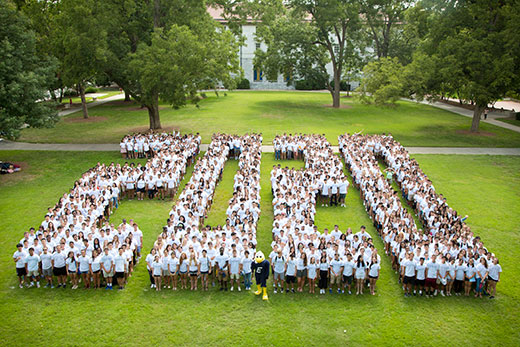 Meet the Class of 2020
Emory's newest undergraduate students arrive with top grades and test scores, bolstered by years of community service and impressive athletic and artistic achievements.
---
Move-In Day highlights Emory spirit
Emory volunteers greeted the Class of 2020 with cheers, dances and plenty of help to move their belongings into their new homes. Hear incoming students and President-elect Claire Sterk reflect on Emory's welcoming spirit.
---
---
New Emory Scholars bring diverse talents to campus
A debater interested in languages and biochemistry. A spoken-word poet who mastered Russian and studied in Poland. A weight lifter who founded a nonprofit program for children. Get to know the newest Emory Scholars, selected for both their achievements and potential.
---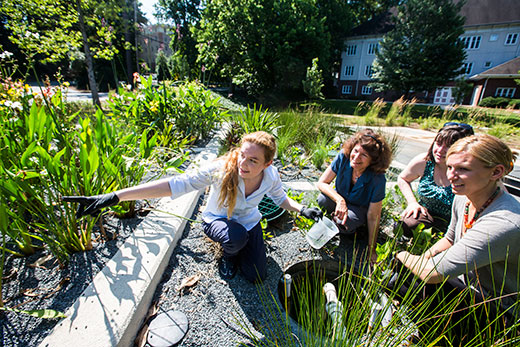 Fall courses offer fresh perspectives on high-profile issues
From the global struggle for clean water to the upcoming presidential election, Emory courses bring critical insights to current events and offer new approaches to familiar subjects. Explore a sample of fall classes that are timely, creative or just plain cool.
---
Emory ALS Center issues Ice Bucket Challenge
Standing in front of the Emory University School of Medicine, a group from the Emory ALS Center took the Ice Bucket Challenge and encouraged Emory staff, faculty and students to join them.
---
---
---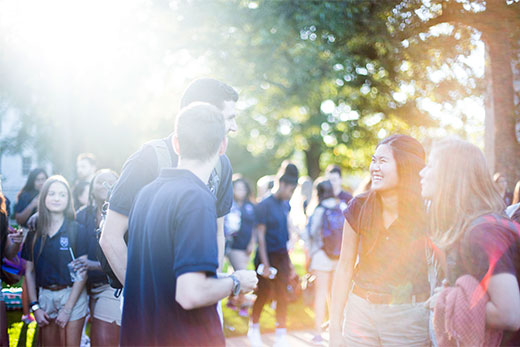 Start of the academic year brings new faces, programs across Emory
The nine schools that make up Emory University have extensive plans for the 2016-17 academic year. Here's a roundup of what's new and noteworthy.
Oxford College Move-In Day
Oxford College welcomed the Class of 2020 to campus on Friday, Aug. 19, with a variety of activities, including the traditional Coca-Cola Toast. See more photos from the day.
---
Emory College Move-In Day
The Class of 2020 moved into Emory College on Saturday, Aug. 20, greeted by enthusiastic volunteers and President-elect Claire Sterk. View more photos.
Emory Insider: Traditions
Wonderful Wednesdays: The Emory campus gathers on Wednesdays from 12:30 to 2:30 p.m. in Asbury Circle. The tradition harkens back to 1967-1982, when Emory didn't have classes on Wednesdays. In 2006, Wonderful Wednesday was revived as a student-led event featuring activities and information from a variety of groups. The first Wonderful Wednesday of the new semester is Aug. 31.
Author visit: "My Father and Atticus Finch"
Emory Medal Winner and adjunct Emory Law faculty member Joe Beck discusses his father's quest for justice in 1930s Alabama.
When: Aug. 25, 12:15 p.m.
Where: Emory Law, Hunter Atrium
Admission: Free
SongFest
First-year students in Emory College write and perform songs in praise of their residence halls.
When: Aug. 25, 8:00 p.m.
Where: Woodruff Physical Education Center
Admission: Free
 
 
 
 
 

Theater Interest Meeting
When: Aug. 25, 5:00 p.m.
Where: Dobbs University Center, Mary Gray Munroe Theater
Admission: Free

 
 
 
 
 
 
 
 
 
 
 
 
 
 
 
 
 
 
 
 
 

Bach Live!
When: Sept. 11, 4:00 p.m.
Where: Schwartz Center for Performing Arts Emerson Concert Hall
Admission: Free
Editor: Laura Douglas-Brown
Executive Director of Communication: Susan Carini
Associate Vice President for Communications and Marketing: David Johnson
Senior Vice President for Communications and Public Affairs: Jerry Lewis

Dooley Report is published by  Communications and Public Affairs
Read the Dooley Report Guidelines
Copyright 2022 Emory University | All Rights Reserved
201 Dowman Drive, Atlanta, Georgia 30322 USA | 404.727.6123