For Students of Emory University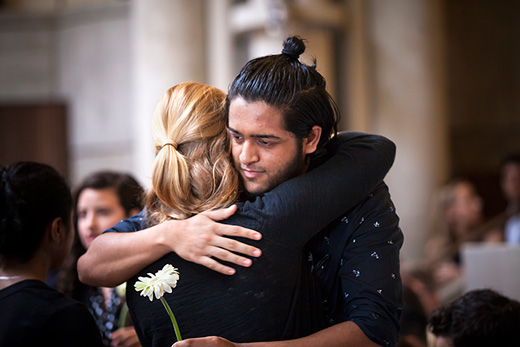 Interfaith vigil honors Emory students killed in terrorist attack
The Emory community filled Cannon Chapel to capacity to remember students Abinta Kabir and Faraaz Hossain, who were killed in the Dhaka terrorist attack. Speakers described the two friends as "true servant leaders" whose legacy will continue on campus.
---
'We will forever carry on their legacy'
As Emory continues to mourn the loss of Abinta Kabir and Faraaz Hossain, friends and professors reflect on their kindness, intelligence, generosity and leadership.
---
---
New, two-story pedestrian bridge to span Clifton Road
A two-story pedestrian bridge will rise over Clifton Road as Emory University Hospital continues progress on its new, state-of-the-art hospital tower. The bridge will be constructed in the center lanes and lifted into place this week, causing traffic delays.
---
---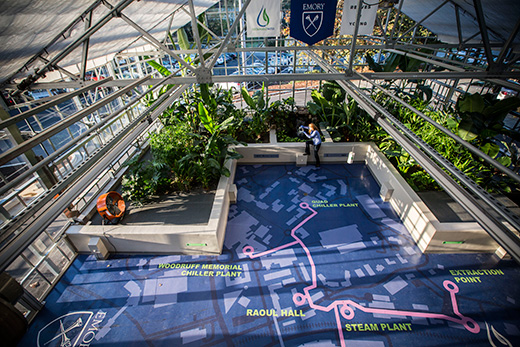 Emory sets sustainability goals for the next decade
The new Sustainability Vision and Strategic Plan calls for Emory to model innovative, sustainable choices at every level, "from the copy room to the operating room, from the classroom to the residence hall."
---
---
---
A disease that makes us love cats?
Documented human cases of toxoplasmosis go back as far as ancient Egypt. Evolutionary biologist Jaap de Roode worked with TED-ED to create a video about the disease, which is caused by a parasite that can only reproduce in the intestines of cats.
---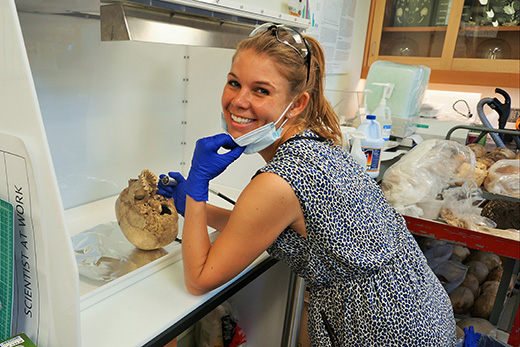 Kendra Sirak: Combining anthropology and genetics to study ancient DNA
Kendra Sirak, a PhD candidate in anthropology in the Laney Graduate School, is working in Ireland, testing the DNA of people ranging from medieval Nubians to an ancient Chinese specimen to an Irish rebel.
Discounts on summer fun: If you plan to visit popular attractions like Six Flags Over Georgia, White Water or the Georgia Aquarium this summer, be sure to check out what's for sale at the ticket and information desk in the Dobbs University Center (DUC) to learn about discounts available to Emory students, faculty and staff.
"Each of us will face crucial bioethical decisions in our lives -- how to make difficult treatment choices when diagnosed with illness, how best to care for a sick or elderly loved one, or whether to adopt cutting-edge technologies to detect a genetic disorder or treat a neurological disease. Bioethics education prepares young people to tackle these tough questions."
James Wagner, Education Week, July 14, 2016
Sand Mandala Closing Ceremony
Learn about the sand mandala of Green Tara before its ceremonial destruction.
When: July 24, 2:00 p.m.
Where: Michael C. Carlos Museum, third floor galleries
Admission: Free
Emory Farmers Market: Ice Cream Social
Honeysuckle Gelato brings its Southern-inspired flavors to this month's market, which continues until 3 p.m.
When: July 26, 11:00 a.m.
Where: Cox Hall Bridge
Admission: Free
Canvas Boot Camp
This workshop is the first in a series to prepare users for the transition to Emory's new learning management system.
When: Aug. 1, 10:00 a.m.
Where: Woodruff Library Room 314
Admission: Free
Editor: Laura Douglas-Brown
Executive Director of Communication: Susan Carini
Associate Vice President for Communications and Marketing: David Johnson
Senior Vice President for Communications and Public Affairs: Jerry Lewis

Dooley Report is published by  Communications and Public Affairs
Read the Dooley Report Guidelines
Copyright 2022 Emory University | All Rights Reserved
201 Dowman Drive, Atlanta, Georgia 30322 USA | 404.727.6123