For Students of Emory University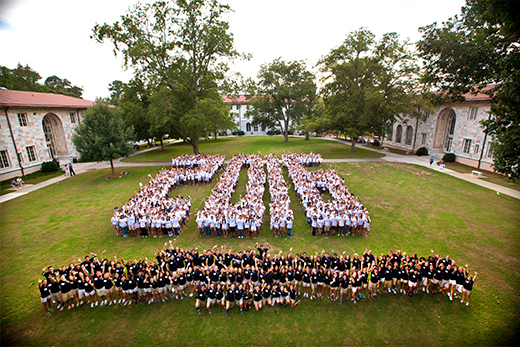 Class of 2016 distinguished by commitment to service, community
A theme of service -- to campus, community and the world -- will be woven throughout Emory's 171st Commencement ceremony, set for Monday, May 9. Renowned epidemiologist William Foege will give the keynote address as Emory celebrates the diverse achievements of this year's graduates.
---
| | | |
| --- | --- | --- |
| | | CLASS OF 2016: EMORY COLLEGE |
Wyatt finds her voice through research and helping others
Growing up in rural Kentucky after being adopted from Vietnam, MacKenzie Wyatt knew how it felt to stand out. In the Class of 2016, she also stands out -- for her biology research and her work to help orphans.
---
---
---
---
---
Eye travels the world to find his calling at home
Praised for his academic achievements and generous spirit, Emory Law student Will Eye credits his widowed mother for teaching him about compassion and plans to use his law degree to advocate for social change.
---
---
---
| | | |
| --- | --- | --- |
| | | CLASS OF 2016: LANEY GRADUATE SCHOOL |
Chiou utilizes anthropology to understand hospital culture
For Howard Chiou, who will receive his PhD from Laney Graduate School, studying hospital culture through the lens of anthropology offers a way to understand and prevent medical errors. A joint PhD/MD student, he graduates from Emory's School of Medicine next year.
---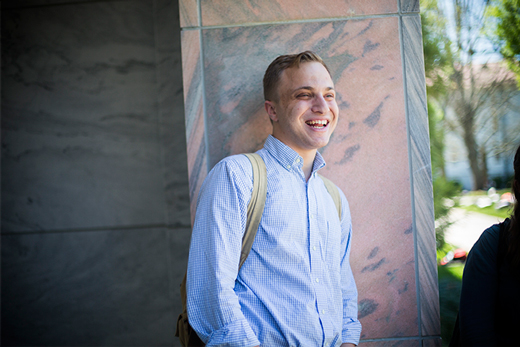 Senior class orator draws on experience uniting students across differences
Selected to address his fellow graduates at the Emory College diploma ceremony on Monday, TableTalk co-founder Ami Fields-Meyer will focus on how the Class of 2016 can use lessons learned at Emory to impact the world.
Emory Med Art Gala
An enthusiastic crowd turned out Saturday, April 30, for the annual Emory Med Art Gala, held in the School of Medicine Atrium. Organized by medical students, the evening featured an art auction and musical performances to raise funds for free, student-run clinics for Atlanta's underserved populations. View more photos from the event.
Commencement webcast: If you are not attending Monday's Commencement, you can still view the ceremony online. Watch the live webcast of the University-wide Commencement, including the keynote address by William Foege, starting at 9 a.m., followed by the Emory College diploma ceremony at 10:45 a.m.
"Never before in the history of vaccines have we collaborated on this scale, this quickly. Getting here has required years of planning, from the laboratory to ministries of health to local health facilities, in countries from Mexico to Nigeria."
Walter Orenstein, TIME, April 27, 2016
Oxford College Commencement
Keynote address by Oxford and Emory alumnus Henry Anthony, vice president of human resources for Rollins, Inc.
When: May 7, 10:00 a.m.
Where: Oxford College Quadrangle
Admission: Free
President's Open House
Graduates, alumni and guests are invited to meet the Wagners and tour Lullwater House
When: May 8, 11:30 a.m.
Where: Lullwater House
Admission: Free
 
 

Oxford Continuee Reception
When: May 5, 3:00 p.m.
Where: Miller-Ward Alumni House
Admission: Free with RSVP required; open to Oxford junior and senior continuees

 

PhD Program Reception
When: May 5, 4:00 p.m.
Where: Goizueta Business School, Dolive Room 500
Admission: Free

 

Class Day
When: May 5, 6:00 p.m.
Where: Glenn Memorial Auditorium
Admission: Free; open to graduating seniors

 
 
 

Senior Dessert Reception
When: May 5, 9:00 p.m.
Where: Miller-Ward Alumni House
Admission: Free; open to graduating seniors

 

Shepard Award Oral Presentation and Luncheon
When: May 6, 11:00 a.m.
Where: Rollins School of Public Health, Claudia Nance Rollins Building, Lawrence P. and Ann Estes Klamon Room
Admission: Free; all Rollins students, faculty and staff are welcome

 
 
 
 

Oxford Baccalaureate Dinner
When: May 6, 6:30 p.m.
Where: Haygood Lawn
Admission: Free with RSVP required; open to graduating students and families

 

Emory Hillel Graduation Shabbat
When: May 6, 6:30 p.m.
Where: Marcus Hillel Center
Admission: Optional donation with RSVP; open to graduating seniors and families

 
 
 

Modupe Dayo
When: May 7, 3:00 p.m.
Where: Cox Hall Ballroom
Admission: Free

 
 
 

Baccalaureate Service
When: May 8, 9:00 a.m.
Where: Glenn Memorial Auditorium
Admission: Free; open to all students receiving bachelor's degrees and their guests

 
 
 
 
 
 
 
 
 

Laney Graduate School Reception
When: May 8, 4:00 p.m.
Where: Emory Conference Center Hotel, Lullwater Ballroom
Admission: Free; open to master's and PhD candidates, families and guests

 
 

The Vega String Quartet
When: May 14, 8:00 p.m.
Where: Schwartz Center for Performing Arts, Emerson Concert Hall
Admission: Free

 
Editor: Laura Douglas-Brown
Executive Director of Communication: Susan Carini
Associate Vice President for Communications and Marketing: David Johnson
Senior Vice President for Communications and Public Affairs: Jerry Lewis

Dooley Report is published by  Communications and Public Affairs
Read the Dooley Report Guidelines
Copyright 2018 Emory University | All Rights Reserved
201 Dowman Drive, Atlanta, Georgia 30322 USA | 404.727.6123