For Students of Emory University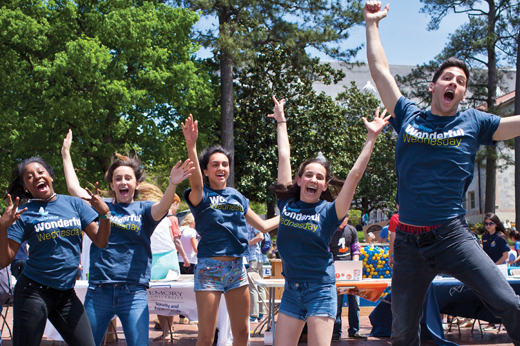 Academic excellence distinguishes Emory's newest class
From engagement beyond the classroom to high test scores, academic excellence has emerged as the hallmark quality that distinguishes the spectrum of applicants eager to join the Class of 2020.
---
Dooley's Week continues with concerts, comedian
Emory's skeletal mascot rose from the dead to walk the campus on Monday, kicking off the annual celebration of Dooley's Week. Events continue through Saturday, including shows by DJ Khaled, comedian Pete Holmes and The Chainsmokers. View photos of Dooley's debut.
---
---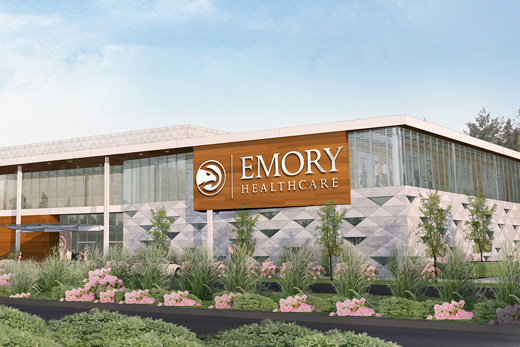 Emory Healthcare and Atlanta Hawks partner to build world-class sports medicine center and training facility
Emory Healthcare and the Atlanta Hawks Basketball Club are partnering to create a first-of-its-kind training and sports medicine center at Executive Park in Brookhaven. Fully staffed by Emory sports medicine clinicians, the facility will feature the most advanced technology in sports medicine and athletic care within a state-of-the-art training center.
---
---
April: 10 things to do for $10 or less
There's plenty to do at Emory in the final weeks leading up to Commencement: volunteer to help in campus gardens, catch a student musical performance, celebrate Shakespeare and more.
---
---
---
---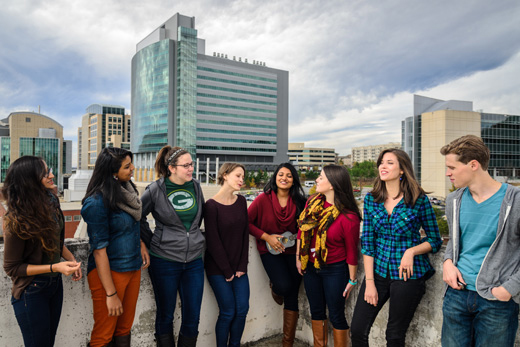 Catherine Koola: Laughing all the way
Catherine Koola (center, with ukulele) founded Rock n' Rollins, performing covers of popular songs rewritten to promote health messages. Her time at Emory has harmonized her youthful love for laughter with a holistic understanding of the public health field.
Barenaked Voices
Emory's diverse student a cappella groups combined their talents on Thursday, March 31, for the 13th annual Barenaked Voices concert. Proceeds from the packed concert benefited Emory Helpline and Active Minds. View more photos of the performers.
---
International Festival
Crowds turned out Friday, April 1, for the International Festival and World Cup Tournament, created to recognize the Emory community's diversity through food, music and friendly soccer competition. Wet weather forced the event to move indoors to the Woodruff PE Center, but didn't put a damper on the fun. See more photos.
---
Holi Celebration
Holi, the festival of colors, is one of India's most iconic celebrations. As part of India Week, Emory observed Holi on Sunday, April 3, on McDonough Field. See more photos of the festivities.
Go for a swim: Take a dip in the outdoor pool at the Student Activity and Academic Center on the Clairmont Campus. The pool reopened April 1 and is heated to a minimum of 78 degrees. Membership in the SAAC is free for full-time students. Faculty and staff may purchase discount memberships or use the $10 daily walk-up pass.
"While this is a hint there may be a slowing of growth and identification of people with autism, it certainly doesn't yet confirm that we are seeing this leveling out. What it confirms is that autism is a more common condition than we had been addressing for many years and we need to use these numbers to motivate us to help address the needs in the community."
Catherine Rice, CNN, March 31, 2016
Jazz on the Green
An evening of outdoor jazz from the Emory Jazz Combos
When: April 7, 6:00 p.m.
Where: Patterson Green
Admission: Free
Employee Council Town Hall
Forum for faculty and staff to present questions to top University and Emory Healthcare administrators
When: April 12, 12:00 p.m.
Where: Dobbs University Center, Winship Ballroom
Admission: Free
Durufle's Requiem
Emory University Symphony Orchestra and University Chorus perform together
When: April 16, 8:00 p.m.
Where: Schwartz Center for Performing Arts, Emerson Concert Hall
Admission: Free
 
 
 
 
 

Emory Chamber Ensembles
When: April 10, 4:00 p.m.
Where: Schwartz Center for Performing Arts, Emerson Concert Hall
Admission: Free

 
 
 
 
 
 
 
 
 
 
 
 
 
 
 
 
 
 
 
 

Emory Dance Company
When: April 14, 8:00 p.m.
Where: Schwartz Center for Performing Arts, Dance Studio
Admission: $10; $8 discount category members; $6 students
Editor: Laura Douglas-Brown
Executive Director of Communication: Susan Carini
Associate Vice President for Communications and Marketing: David Johnson
Senior Vice President for Communications and Public Affairs: Jerry Lewis

Dooley Report is published by  Communications and Public Affairs
Read the Dooley Report Guidelines
Copyright 2018 Emory University | All Rights Reserved
201 Dowman Drive, Atlanta, Georgia 30322 USA | 404.727.6123