For Students of Emory University
Wednesday, April 27, 2016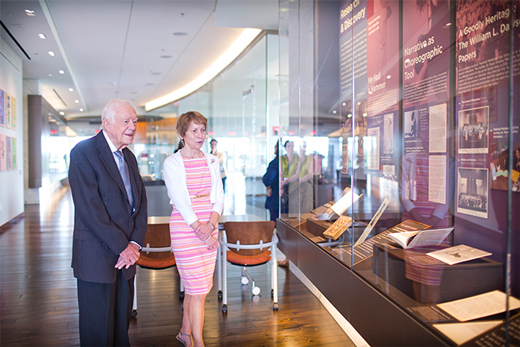 President Carter shares history and archive lessons with Emory students
In a conversation with students at Emory's Rose Library, former President Jimmy Carter shared candid thoughts on politics, history and the importance of archives to understanding contemporary issues.
---
Wagner offers year-end message to the Emory community
Reflecting on the end of the academic year and his upcoming retirement, Emory President James Wagner offers gratitude to the community for making Emory "a university with a soul, truly endeavoring to be both great and good."
---
---
---
Emory tennis teams sweep UAA championships
Emory's women's and men's tennis teams won the University Athletic Association championships over the weekend -- the fourth consecutive championship for the women and the second for the men.
---
---
---
---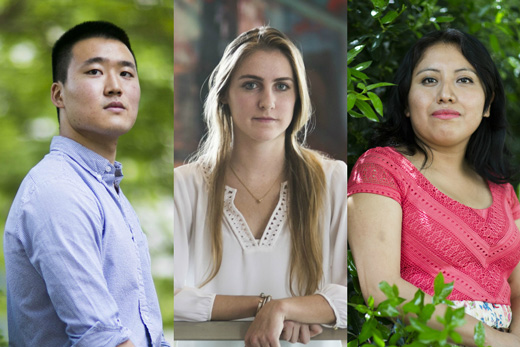 Undergraduate researchers find support through SIRE
Takuya Maeda examined educational efforts about the internment of Japanese Americans. Meghan Hickey proved that trypophobia, the fear of holes, may not be a fear at all. Dalila Vazquez Herrera explored cultural barriers to health care delivery. But these diverse student projects have one thing in common: support from the Scholarly Inquiry and Research at Emory (SIRE) program.
Emory Denim Day
Hundreds of faculty, staff and students wore jeans or denim ribbons April 20 for Emory Denim Day, an annual event designed to show support for survivors of sexual assault and the larger goal of ending sexual violence. View more photos of participants.
---
Wagner Appreciation Block Party
Emory faculty, staff and students united April 21 for a block party to thank Emory President James Wagner and his wife, Debbie, for their service to the University. Hundreds filled Asbury Circle to celebrate the Wagners' contributions to Emory, while also enjoying music, lunch and ice cream. See more photos of the festivities.
---
Shakespeare Battle
Theater Emory's 12-hour Shakespeare Anniversary Celebration kicked off at noon April 23 with a battle scene reenactment complete with broadsword and staff. Student actors fought valiantly before an appreciative audience on Patterson Green. View more photos from the battle and student performances.
Fresh produce delivered to campus: Staying in the Atlanta area over the summer? Buy a subscription to the Oxford College Organic Farm community-supported agriculture program to get fresh vegetables that you can pick up weekly on both the Oxford and Emory campuses. Subscriptions for the full season (28 weeks) and spring season (10 weeks) start tomorrow. Fall subscriptions are also available.
"This whole thing is symbolic politics. Putting women on currency is not going to change the gender pay gap and not going to change the fact that the pay gap is worse for black women and women of color."
Andra Gillespie, NBC News, April 23, 2016
Chair Rodeo
Volunteer to help set up 14,000 chairs for Commencement
When: May 4, 9:00 a.m.
Where: Emory Quadrangle
Admission: Free
Oxford College Commencement
Keynote address by Oxford and Emory alumnus Henry Anthony, vice president of human resources for Rollins, Inc.
When: May 7, 10:00 a.m.
Where: Oxford College Quadrangle
Admission: Free
In Dialogue: Conversations with the Provost
Small-group conversation focuses on strengthening faculty diversity at Emory
When: May 11, 4:15 p.m.
Where: Stuart A. Rose Manuscript, Archives and Rare Book Library
Admission: Free
 
 
 
 
 
 
 
 
 
 
 
 
 
 
 

The Vega String Quartet
When: May 14, 8:00 p.m.
Where: Schwartz Center for Performing Arts, Emerson Concert Hall
Admission: Free

 
Editor: Laura Douglas-Brown
Executive Director of Communication: Susan Carini
Associate Vice President for Communications and Marketing: David Johnson
Senior Vice President for Communications and Public Affairs: Jerry Lewis

Dooley Report is published by  Communications and Public Affairs
Read the Dooley Report Guidelines
Copyright 2018 Emory University | All Rights Reserved
201 Dowman Drive, Atlanta, Georgia 30322 USA | 404.727.6123