For Students of Emory University
Wednesday, April 20, 2016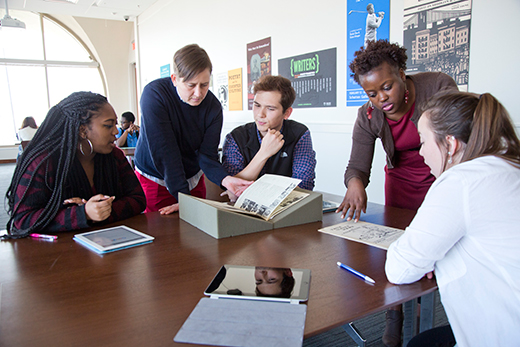 Student researchers craft 'Resisting Racism' exhibit
American Studies students used primary source materials in the Rose Library to create a new exhibit, "Resisting Racism: From Civil Rights to Black Lives Matter," on display in the library until August.
---
---
---
---
---
HIV prevention trial tests virus-blocking antibody
Despite years of research, there is no preventive vaccine for HIV. Led by Srilatha Edupuganti and Carlos del Rio, Emory is part of a clinical trial to provide people with one of the things a vaccine is supposed to stimulate -- antibodies that neutralize the virus -- with the aim of preventing infection.
---
Study on worm, mouse fertility could lead to 'the pill' for men
Research led by biology professor Steven L'Hernault establishes a connection between fertilization in nematodes and mammals. The conclusion provides new insights into the basic underpinnings of fertility that could eventually lead to oral contraceptives for men.
---
Emory alumnus 'gives back' as an admissions counselor
As an Emory student, Joel Dobben earned highest honors in English, competed on the swim team and won a Bobby Jones Scholarship. As an admissions counselor, he now shares the benefits of an Emory education with prospective students.
---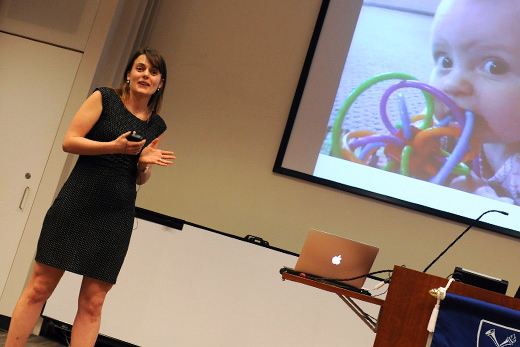 Melanie Jacobson: Examining the effects of chemicals in consumer products
Melanie Jacobson, a PhD student in epidemiology, won this year's Three Minute Thesis Competition with her concise explanation of her research into the effects of environmental exposure to brominated flame retardants. Her research focuses on two vulnerable populations that have not been studied before: young children and reproductive-aged women.
Emory Dance Company
Emory Dance Company presented "Undertow" April 14-16 in the Schwartz Center for Performing Arts. The performance featured works choreographed by students under the guidance of Emory Dance faculty member and acclaimed choreographer George Staib. See more photos.
---
DUC Day 2016
Emory celebrated its last DUC Day on April 15 in Asbury Circle. "Barnyard Bash" was the theme as students enjoyed a petting zoo, mechanical bull, food, games and more hosted by the Dobbs University Center.
Commencement 2016: The Emory University Commencement website is your source for information about this year's ceremony, from where to line up to what happens if it rains. See the full schedule of Commencement activities and follow links to school-specific websites for even more details.
"Doing mathematics can be a mental voyage to a place where clarity of thought and openness to insight make it possible to see the deeper beauty of a mathematical structure, to enter a world where triumph over a problem depends less on conscious effort than on confidence, creativity, determination and intellectual rigor."
Ken Ono, Scientific American, April 13, 2016
Wagner Appreciation Block Party
A lunch gathering to thank President James Wagner and his wife, Debbie, for their service to Emory
When: April 21, 11:30 a.m.
Where: Asbury Circle
Admission: Free
Jazz on the Green
An evening of outdoor jazz from the Emory Jazz Combos
When: April 21, 6:00 p.m.
Where: Patterson Green
Admission: Free
Educational Gardens Tour
Tour Emory's five gardens to learn what's growing in each and how you can get involved
When: April 22, 12:00 p.m.
Where: Meet at the Dooley Statue near Cox Hall
Admission: Free
 
 
 
 
 
 
 
 
 
 
 
 

'90s Study Break
When: April 22, 3:00 p.m.
Where: Woodruff Library Plaza
Admission: Free

 
 
 

Emory Salsa Lessons
When: April 22, 6:35 p.m.
Where: Woodruff PE Center, 2nd Floor Multipurpose Room
Admission: Free

 
 
 
 

Rock the Row
When: April 23, 8:00 p.m.
Where: Freshman Quad
Admission: Free

 
 

Emory Concert Choir
When: April 24, 7:00 p.m.
Where: Schwartz Center for Performing Arts, Emerson Concert Hall
Admission: Free

 
 
 
 
 
 
 
Editor: Laura Douglas-Brown
Executive Director of Communication: Susan Carini
Associate Vice President for Communications and Marketing: David Johnson
Senior Vice President for Communications and Public Affairs: Jerry Lewis

Dooley Report is published by  Communications and Public Affairs
Read the Dooley Report Guidelines
Copyright 2018 Emory University | All Rights Reserved
201 Dowman Drive, Atlanta, Georgia 30322 USA | 404.727.6123