For Students of Emory University
Wednesday, April 13, 2016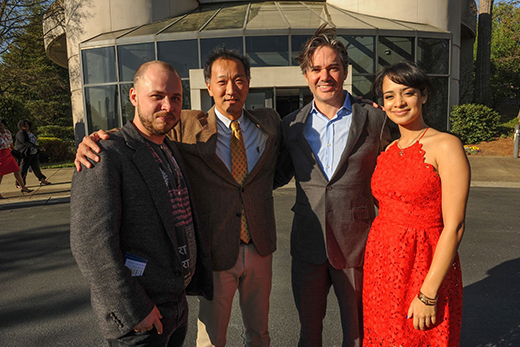 Celebrating math, miracles and a movie
An advance screening of "The Man Who Knew Infinity" at The Carter Center was a chance to celebrate Emory's connection to the film -- Ken Ono, Asa Griggs Candler Professor of Math, served as an associate producer and the math consultant. Focused on the life of Indian mathematician Srinivasa Ramanujan, who said his math formulas came to him as visions from a Hindu goddess, the film opens nationwide April 29. Learn more and see the trailer.
---
---
---
---
---
---
Curator's passion for punk sparks new library collection
As curator of modern political and historical collections at Emory's Rose Library, Randy Gue is always on the lookout for material that helps complete the cultural puzzle of the American South. Last year, he realized he held a piece of it himself.
---
Caroline Schmidt: Scholarship in hand, 'natural storyteller' looks to the future
Emory College junior Caroline Schmidt, a creative writing major praised as a "natural storyteller," has been named one of 20 winners of the 2016 Beinecke Scholarship. The national award provides funding for graduate school.
Meal packaging for Stop Hunger Now
More than 175 volunteers turned out April 9 to assemble and pack 40,000 meals for Stop Hunger Now, an international hunger relief organization. The project was co-sponsored by the Emory Office of Spiritual and Religious Life, Glenn Memorial UMC and Emory Wesley Fellowship. See more photos.
---
Dooley's Week
Emory celebrated Dooley's Week April 4-9, as the University's unofficial skeletal mascot presided over events ranging from carnivals to concerts and carried on the tradition of dismissing classes for some lucky students. View more photos.
Borrow a DVD: Emory's Music and Media Library offers more than 13,000 DVDs, including many popular titles, in its DVD-Lend collection. Students can check out up to three DVDs for three days at a time.
"There is nothing wrong with the recognition that we are apes -- smart ones perhaps, but apes nonetheless. ... We are endowed with the mental powers and imagination to get under the skin of other species. The more we succeed, the more we will realize that we are not the only intelligent life on earth."
Frans de Waal, New York Times, April 8, 2016
Escape the Room
Solve puzzles in this fundraiser hosted by honor fraternity Phi Sigma Pi with multiple times Friday through Sunday
When: April 15, 12:15 p.m.
Where: Candler Library
Admission: $10
Wagner Appreciation Block Party
A lunch gathering to thank President James Wagner and his wife, Debbie, for their service to Emory
When: April 21, 11:30 a.m.
Where: Asbury Circle
Admission: Free
 
 
 

Emory Dance Company
When: April 14, 8:00 p.m.
Where: Schwartz Center for Performing Arts, Dance Studio
Admission: $10; $8 discount categories; $6 students

 
 
 
 

Dancelanta 2016
When: April 15, 6:00 p.m.
Where: Glenn Memorial
Admission: Free

 
 
 

Making Momos
When: April 17, 2:00 p.m.
Where: Michael C. Carlos Museum Reception Hall
Admission: $15 for members; $20 for non-members

 

Karen Freer, cello
When: April 17, 4:00 p.m.
Where: Schwartz Center for Performing Arts, Emerson Concert Hall
Admission: Free

 
 
 
 
 
 
 
 
 
 

Emory Big Band
When: April 19, 8:00 p.m.
Where: Schwartz Center for Performing Arts, Emerson Concert Hall
Admission: Free

 
 

Puppy Palooza
When: April 20, 12:00 p.m.
Where: Asbury Circle
Admission: Free

 
 
 
Editor: Laura Douglas-Brown
Executive Director of Communication: Susan Carini
Associate Vice President for Communications and Marketing: David Johnson
Senior Vice President for Communications and Public Affairs: Jerry Lewis

Dooley Report is published by  Communications and Public Affairs
Read the Dooley Report Guidelines
Copyright 2018 Emory University | All Rights Reserved
201 Dowman Drive, Atlanta, Georgia 30322 USA | 404.727.6123