For Students of Emory University
Wednesday, March 30, 2016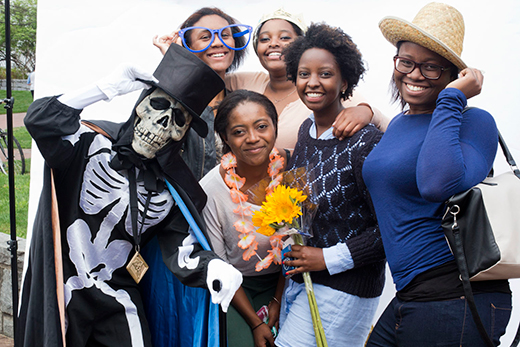 Get ready for your close-up at Dooley's Week events
First there was Hollywood, then Bollywood, and now "Dooleywood" -- at least next week. Dooley's Week celebrates the movies with a packed schedule of events featuring The Chainsmokers, DJ Khaled, comedian Pete Holmes, and of course, Emory's skeletal Lord of Misrule.
---
Emory's Trump chalkings in context
Chalked endorsements normally would not cause anyone to blink an eye, but a particular set of circumstances created a flash point, writes Ajay Nair, senior vice president and dean of Campus Life.
---
Eyes on a prize: The courageous life of John Lewis
"You are never too old or too young to be involved in seeking justice," U.S. Rep. John Lewis told a capacity crowd at Emory Law for a screening of "Get in the Way," the new film about his lifetime of civil rights activism.
---
Block party celebrates Wagners' contributions to Emory
The Emory community is invited to a block party on Thursday, April 21, to thank Emory President James Wagner and his wife, Debbie, for their service to the University. The lunch gathering in Asbury Circle features music, food and more.
---
Emory Scholars bring back lessons from Hult Prize competition
The Emory Scholars who returned last week from China after competing in the regional round of the Hult Prize may not have won, but they did not come back empty-handed. Now with valuable networking contacts, they remain committed to global impact.
---
---
---
---
'Pre-Texts' learning method uses art to engage complex texts
For a course on the U.S.-Mexican War, professor Vialla Hartfield- Méndez had students read articles written in English and Spanish, then cut them apart to create a new narrative. Emory faculty and students can learn more about the method at events this week.
---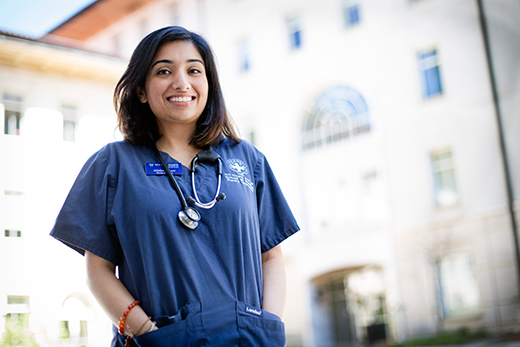 Alisha Bhimani: Finding her calling as a nurse through study abroad
As a non-native English speaker, Alisha Bhimani is acutely aware of disparities in health care, especially around language. Trips to Honduras and Italy strengthened her resolve to become a patient-centered health care provider.
Tibet Week sand mandala
As Emory celebrated Tibet Week, monks spent hours each day crafting a sand mandala. The meticulous creations are often destroyed once completed to symbolize the impermanence of life, but this mandala will remain on display in the Michael C. Carlos Museum throughout the "Doorway to an Enlightened World" exhibit. See more photos.
---
Earth Month Festival
April is Earth Month, but Emory got an early start at the Earth Month Festival on Tuesday, March 29, with activities ranging from baking s'mores in a solar-powered oven to making smoothies in a bike-powered blender. View more photos and the full Earth Month calendar.
---
Wonderful Wednesday
Sunny skies greeted attendees at Wonderful Wednesday festivities March 30. The tradition harkens back to when Emory didn't have classes on Wednesday. While the mid-week break lasted only from 1967 to 1982, Wonderful Wednesday was revived in 2006 as a student-led weekly gathering featuring activities from a variety of groups.
Need rain gear? Woodruff Library loans umbrellas, just like books or other library materials. Students, faculty and staff with borrowing privileges may check out umbrellas from the Library Service desk for up to seven days.
"We certainly need more characters like this in our neighborhoods and in our homes, too, since it seems that, whether in the public square or the private sphere, we have become all too comfortable with the scandals, impoliteness, inhumanity and downright triviality that rule the day."
Brent A. Strawn, Huffington Post, March 25, 2016
Send Silence Packing
Display of empty backpacks represents lives lost to suicide
When: April 4, 9:00 a.m.
Where: Emory Quadrangle
Admission: Free
 
 
 
 
 
 
 
 

Taste of Africa
When: April 2, 6:30 p.m.
Where: Cox Hall Ballroom
Admission: Free

 
 
 
 
 
 
 
 
 
Editor: Laura Douglas-Brown
Executive Director of Communication: Susan Carini
Associate Vice President for Communications and Marketing: David Johnson
Senior Vice President for Communications and Public Affairs: Jerry Lewis

Dooley Report is published by  Communications and Public Affairs
Read the Dooley Report Guidelines
Copyright 2018 Emory University | All Rights Reserved
201 Dowman Drive, Atlanta, Georgia 30322 USA | 404.727.6123