For Students of Emory University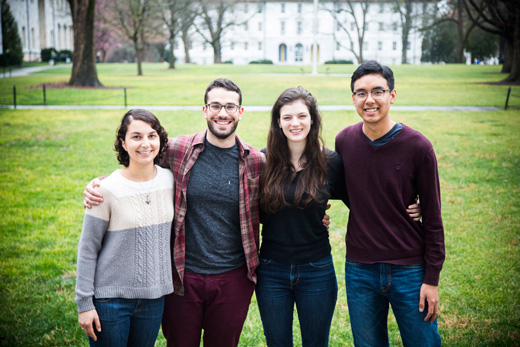 Bobby Jones scholars announced for yearlong study in Scotland
Four exceptional Emory College seniors have been chosen as this year's recipients of the Robert T. Jones Scholarships, enabling them to study topics ranging from health care to sustainable development to art history at the University of St. Andrews.
---
Emory Leads: 2015 Annual Report
"Emory leads." Simple but bold, these words summarize the University's trajectory over the last year. Be inspired as you meet just a few of the faculty, staff and students creating unforgettable legacies of leadership.
---
Website seeks feedback on responses to racial justice demands
In a message to the Emory community, Ajay Nair, dean of Campus Life, invites feedback on possible solutions to demands set forth by the Black Students of Emory movement. A special website, Dialogue at Emory, has been created to engage the community in the process.
---
---
Student photography featured in Woodruff Library
Striking photographs by members of the Emory Photography Club are featured in a new display in Woodruff Library's Level 2 Learning Commons. The exhibit will change approximately every three months.
---
---
---
---
---
Best-in-breed show dog assists with Emory neuroscience
Viewers of the Westminster Kennel Club Dog Show learned about Emory's Dog Project thanks to Eli, a participant in the ground-breaking neuroscience research, and his owner and handler, Emory alumna Lindsay Fetters. Eli took top honors for his breed.
---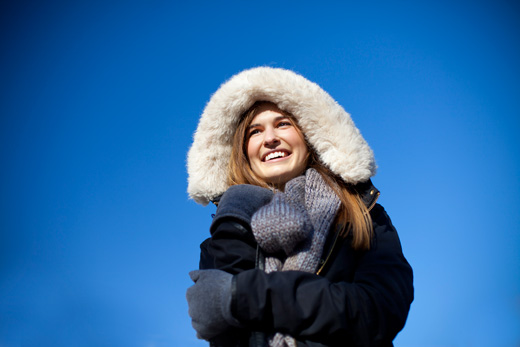 Savannah Miller: Antarctica bound
After trips to the Amazon River basin, Africa and the Paris climate talks, Emory College senior Savannah Miller is bound for Antarctica next month. Learn where her passion for environmental policy will take her next.
Wonderful Wednesday with One Billion Rising
Wonderful Wednesday got an added boost Feb. 17 thanks to dancers representing One Billion Rising, a movement to end violence against women around the world. The weekly tradition also featured its popular mix of information tables. View more photos.
---
Oxford Science Building grand opening
The grand opening of Oxford College's new science building drew a crowd of more than 400 for a ceremonial ribbon-cutting, tours and hands-on lab demonstrations. See more photos from the festivities.
Looking for a part-time job? The Emory Employee-Student Job Network helps Emory students connect with faculty and staff needing part-time babysitting, pet care, house sitting, lawn care, etc. Sign in to Eagle Ops, Emory's online career management system, to view these jobs.
"People want women to be a monolith. They really never were. People have talked about African-Americans or Latinos as though they are a monolith, and the truth is that that's never been the case. Minority communities are actually very, very diverse."
Andra Gillespie, NPR, Feb. 16, 2016
Dear World Live From Emory
Keynote by Jonah Evans, "Dear World" executive producer
When: Feb. 25, 7:00 p.m.
Where: Winship Ballroom, Dobbs University Center
Admission: Free
Rita Dove poetry reading
Former U.S. poet laureate returns for the Raymond Danowski Reading Series
When: Feb. 28, 4:00 p.m.
Where: Emerson Concert Hall, Schwartz Center for Performing Arts
Admission: Free
 
 

Creativity & Arts Awards
When: Feb. 25, 6:30 p.m.
Where: Chase Upper Lobby, Schwartz Center for Performing Arts
Admission: Free; RSVP requested

 
 
 
 
 
 
 
 
 
Editor: Laura Douglas-Brown
Executive Director of Communication: Susan Carini
Associate Vice President for Communications and Marketing: David Johnson
Senior Vice President for Communications and Public Affairs: Jerry Lewis

Dooley Report is published by  Communications and Public Affairs
Read the Dooley Report Guidelines
Copyright 2022 Emory University | All Rights Reserved
201 Dowman Drive, Atlanta, Georgia 30322 USA | 404.727.6123