Award-winning chef holds recipe for creative success
By Michelle Valigursky | Emory Wire | July 11, 2013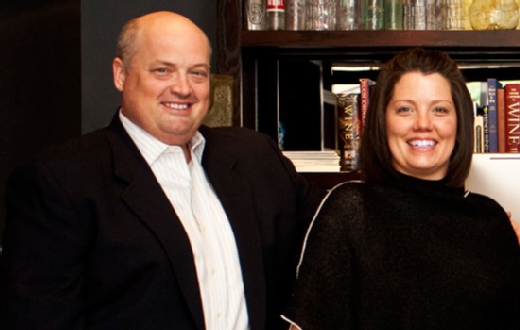 James Beard Award Winning Chef Hopkins with his wife and business partner, Gina.
As an award-winning chef-owner of numerous top-rated Atlanta restaurants and culinary ventures, Linton Hopkins, a 1992 graduate of Emory College of Arts and Sciences,  boasts a unique perspective on the role of the creative process. "We can look at chefs as artists like Michelangelo who create entire schools of thought, or perhaps as a composer who is responsible for understanding how each instrument interacts with another," he says. "Creation is organization."
As a businessman, Hopkins is highly detail oriented, managing the creative direction, supply chain, and processes for Restaurant Eugene, Holeman & Finch Public House, H&F Bread Company, and H&F Bottle Shop. His wife and business partner, Gina, drives day-to-day business operations of compliance, system networking, banking and more. "She's my boss," he jests. The two met at DC Coast Restaurant in Washington, DC and now have two children, Avery and Linton.
Family values incorporate making food memories that elicit emotional responses. "Having our kids raised in a culture of good food is a big deal for us. We cook from scratch at home, start to finish, and I'm teaching a lot more now about how to eat. If I don't teach you how to eat, you will never learn to cook."  
With accolades such as four James Beard Award nominations and one win in 2012 and aFood and Wine Best New Chef nod in 2009, Hopkins maintains "total control over my kitchen. Being a chef is choosing the raw products, the recipes, hiring the staff, training those employees, establishing relationships with purveyors. It's creating the vertical structures that allow me to cook."