Next pope will turn a corner, leadership-wise
Feb. 13, 2013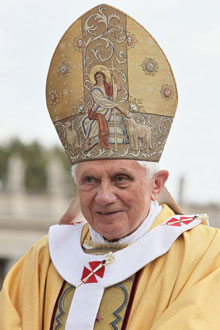 The recently resigned Benedict XVI. Wikipedia Commons.
As speculation spreads on the forthcoming papal conclave in Rome, scholars at Emory have diverse views on Pope Benedict XVI's motivation for resigning, but agree that it marks a turning point in the leadership role of the papacy.
"Some of the debate at the moment has to do with the question of whether you can separate the office from the officeholder, and Pope Benedict's decision seems to be that you can," says Philip Reynolds, Aquinas Professor of Theology at Emory's Candler School of Theology.