Next pope will turn a corner, leadership-wise
By Elaine Justice | Spirited Thinking | Feb. 13, 2013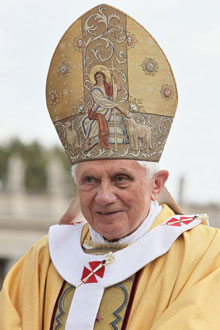 The recently resigned Benedict XVI. Wikipedia Commons.
As speculation spreads on the forthcoming papal conclave in Rome, scholars at Emory have diverse views on Pope Benedict XVI's motivation for resigning, but agree that it marks a turning point in the leadership role of the papacy.  
"Some of the debate at the moment has to do with the question of whether you can separate the office from the officeholder, and Pope Benedict's decision seems to be that you can," says Philip Reynolds, Aquinas Professor of Theology at Emory's Candler School of Theology.  
Papacy's role has evolved  
In the Middle Ages, when many popes were notable for political infighting and, to put it politely, not well loved, the distinction between the office and the person was more widely understood, according to Reynolds. "You didn't worry that this person was also the head of the church; that was not necessarily regarded as a problem," he says.  
The idea that a leader's position and personal life are closely linked is a modern idea, says Reynolds, fueled by intense and instantaneous publicity. "Now it's much more difficult to distinguish the person from the office," he observes. Charismatic pontiffs such as John XXIII and John Paul II have fueled the concept that the person and office are synonymous.
Reynolds was surprised at the reaction from some Catholics who expressed distress and disappointment at the pope's resignation, "this sense that a spiritual leader always has to be a spiritual leader and can't cease to be that."