Patterson leads students on a trek toward resilience
By Elaine Justice | Spirited Thinking | Jan. 8, 2013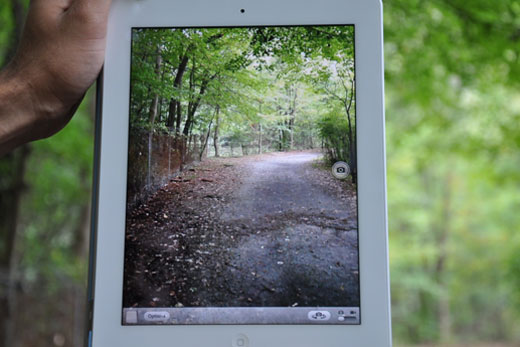 Students in professor Bobbi Patterson's religion and ecology class explore the relationship between nature, religion and culture.
Bobbi Patterson is consumed with the task of preparing Emory undergraduates to encounter the world and their place in it. Students in her religion and ecology class this past fall interspersed their readings with Patterson-led hikes around the Emory campus, to Atlanta's renowned Auburn Avenue district and even camping in North Georgia. Some of them weren't looking forward to it, but that changed.
Here's how Patterson, a professor of pedagogy in Emory's religion department, describes a typical class:
"We stand in a circle, 25 students and me, their teacher. Our class is in Religion and Ecology and today's lesson happens within our 135-acre campus green space, Lullwater Park.
"Some students scope out the landscape around us—invasive privet and indigenous white oaks. Others shift from right foot to left, shuffling in the sandy soil deposited by storm surges through the South Fork of Peachtree Creek beside us.
"My eyes meet the few looking directly at me. We exchange tentative anticipation over the contemplative practice we are about to begin. Even after six years of teaching this class, my gut knots as we take a more complicated practice into our repertoire. We are moving again from theory to practice in order to return to theory; so goes the cycle."