Merton's wisdom reveals antidote for digital holiday blues
Dec. 6, 2012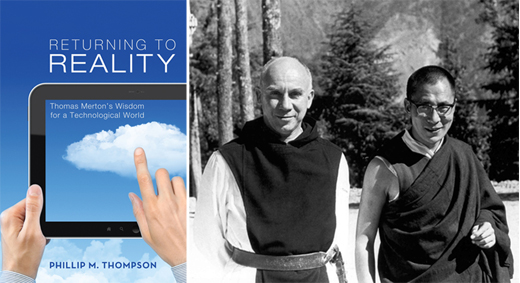 Thomas Merton (left) and the Dalai Lama. Copyright of the Merton Legacy Trust and the Thomas Merton Center at Bellarmine University. Used with permission.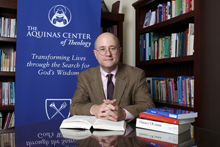 Author Phillip Thompson. Hi-res photo available.
For anyone who looks around at the busyness of life and wonders if something's not quite right, Emory's Phillip Thompson says you're not alone. His new book, "Returning to Reality: Thomas Merton's Wisdom for a Technological Age," captures and illuminates some relevant and inspiring thoughts of Merton, Trappist monk and one of the great spiritual thinkers of the 20th century, a perfect gift for minds exhausted by the digital downside of life during the harried holidays.  
Thompson, executive director of the Thomas Aquinas Center of Theology at Emory's Candler School of Theology, has examined the ideas of Catholic intellectuals engaged with science and technology for some time, but found himself returning to Merton.  
"We're all under this pressure, but we don't always realize it because it is ingrained in our society," says Thompson in an interview with Emory's Spirited Thinking blog. The book is his answer to the rampant consumerism all around us, what he calls our "technological mentality" that ends up changing the way we live, even the way we think.