For Friends of Emory University
In this season of coming together and giving thanks, I'm excited to share with you this issue of Emory Update, highlighting just a few of the ways that Emory faculty, staff and students are working to improve lives here and around the world.

From creating opportunities for the next generation of local farmers to making sure that we serve those who served our nation in the U.S. military, this work would not be possible without our many community partners.

On a personal note, you may have heard that last month I informed Emory's Board of Trustees of my decision to retire as president in August 2020 and return to the faculty of the university's Rollins School of Public Health. As the Board begins the process for identifying Emory's next leader, I'm especially proud of the work we have done to strengthen the university's bonds with the city of Atlanta and thankful for your support and collaboration.


With gratitude,

Claire E. Sterk
Emory University President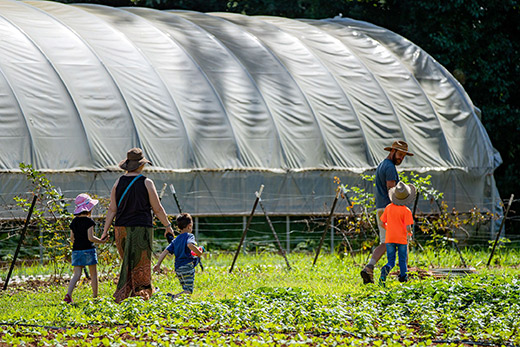 From Georgia farms to Emory tables
In partnership with the Conservation Fund, Emory makes a bold commitment to support the next generation of local farmers, while boosting the supply of fresh, sustainably grown food for the university's campus and hospital communities.
---
Emory experts offer insight into 2020 election
As we head into a presidential election year, Emory faculty offer perspectives on a broad range of topics including health care policy, polling, voting behavior, gender and politics, and race and politics, among others.
---
---
Emory Cares International Day of Service
More than 1,600 Emory alumni, students, faculty and staff joined in the 16th annual Emory Cares International Service Day, helping community organizations in 64 cities and 13 countries worldwide.
Serving students who served
Building on extensive service to veterans through health care and legal aid, Emory increases outreach and support for veterans as undergraduate and graduate students.
---
---
Discussion: Public Health Crisis in Atlanta
As part of the Exploring Atlanta series, hear Dr. Carlos Del Rio and Dr. Wendy Armstrong discuss the public health crisis of HIV in the city and what Emory is doing to help. Event includes a lunch buffet and complimentary parking.
When: Dec. 12, 11:30 a.m.
Where: Manuel's Tavern, 602 North Highland Ave.
Admission: $20
Contact Us
Emory University
201 Dowman Drive
Atlanta, Georgia 30322
404-727-6123