For Faculty and Staff of Emory University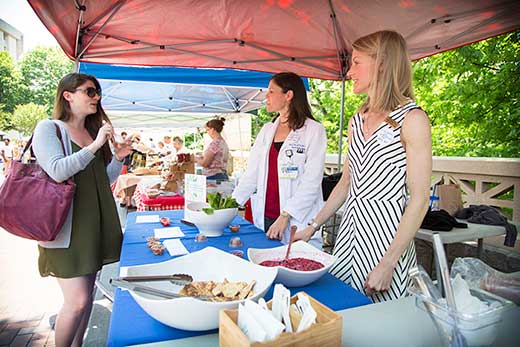 Better Choice initiative makes it easier for employees to pick healthy foods
New labels on selected entrees and side items at campus dining facilities will help identify the "Better Choice" for healthy eating, thanks to a collaboration among Emory University, Emory Healthcare and Bon Appetit. Last week's Emory Farmers Market offered a taste of healthy menu items.
---
Researchers discover how Zika infects the placenta
Zika virus can infect and replicate in immune cells from the placenta without killing them, Emory scientists have discovered. The finding may explain how the virus can pass through the placenta of a pregnant woman, on its way to infect developing brain cells in her fetus.
---
---
---
Emory women's tennis wins NCAA Championship
For the second time in the past three seasons and the seventh time in program history, the Emory University women's tennis team has captured the NCAA Division III National Championship.
---
---
---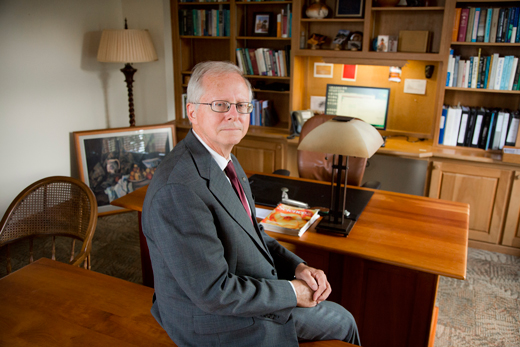 Bowen leaves lasting impact as dean of Oxford College
From academic innovation to new and renovated campus facilities, retiring Dean Stephen Bowen has led Emory's Oxford College through more than a decade of growth and change.
Nursing Excellence Awards Banquet
Emory honored nurses on May 22 with the Nursing Excellence Awards Banquet at the Emory Conference Center. See additional photos and find out more about the 67 winners from across Emory Healthcare.
Summer swimming: Emory University and Emory Healthcare employees can purchase discounted memberships to the Student Activity and Academic Center, including the popular SAAC Aquatic Center. Individual, couple and family rates are available.
"In business, being liked can be just as critical to success as being respected. 'Difficult' people are unlikely to be invited to join projects, teams or boards. So, for women leaders, being disliked for being assertive can carry real career costs, not just social ones."
Melissa J. Williams, Wall Street Journal, May 30, 2016
Four Keys to Healthy Eating Out
Get tips for healthy, enjoyable dining away from home. Repeats June 7 at 12 p.m. and June 15 at 2 p.m.
When: June 7, 10:00 a.m.
Where: Online webinar
Admission: Free
Staibdance: Moat
Dance explores themes of human migration. More performances June 3 at 9 p.m. and June 4 at 7 and 9 p.m.
When: June 3, 7:00 p.m.
Where: Performing Arts Studio
Admission: $20 online; $15 students and seniors (at the door only)
Under the Sea: A Percussive Adventure
Concert benefits the School of Medicine PA Program Migrant Farm Worker Health Project.
When: June 4, 3:00 p.m.
Where: Woodruff Health Sciences Administration Building Auditorium
Admission: Free; donations accepted
 
 

WaterHub Tours
When: June 2, 2:00 p.m.
Where: WaterHub on Peavine Drive
Admission: Free

 
 
 
 
 
 
 
 
 
 
 
 
 
 
 
 
 
 
 
 
Editor: Laura Douglas-Brown
Executive Director of Communication: Susan Carini
Associate Vice President for Communications and Marketing: David Johnson
Senior Vice President for Communications and Public Affairs: Jerry Lewis

Emory Report is published by  Communications and Public Affairs
Read the Emory Report Guidelines
Copyright 2018 Emory University | All Rights Reserved
201 Dowman Drive, Atlanta, Georgia 30322 USA | 404.727.6123