For Faculty and Staff of Emory University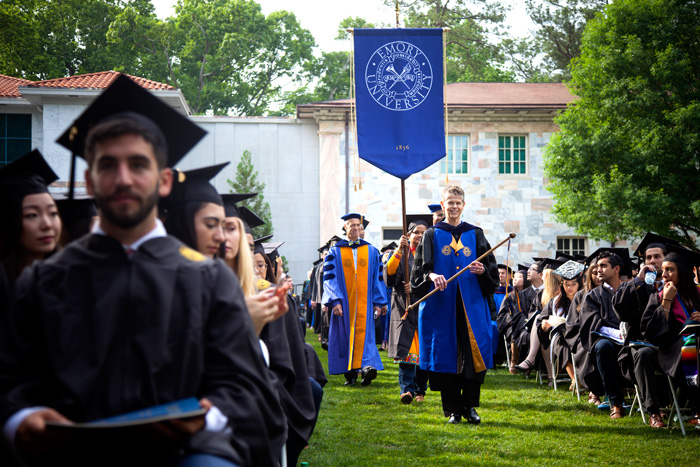 Celebrating Emory's Class of 2016
Steeped in tradition, Emory's 171st Commencement honored the diverse achievements of this year's 4,494 graduates, described by President James Wagner as "entrepreneurs of care" for their commitment to using knowledge in service to the world.
---
---
---
---
---
---
Eleanor Main Awards showcase outstanding mentors
2016 PhD graduate Nicole Varga and religion professor Dianne Stewart are the recipients of this year's Eleanor Main Graduate Mentor Awards, created to highlight mentoring as a cornerstone of graduate education.
---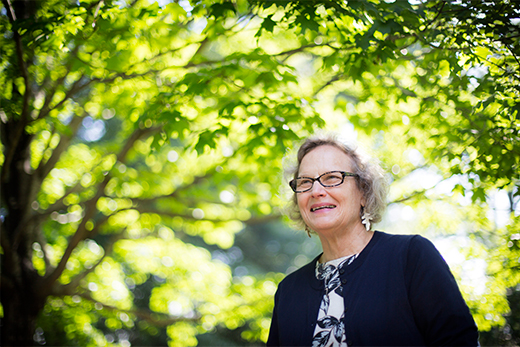 A natural teacher, Eloise Carter receives Thomas Jefferson Award
Lauded for exemplary teaching, Oxford College biology professor Eloise Carter also co-authored a landmark report that led to Emory's forest protection plan, launched a summer program for teachers, and shepherded Oxford's new science building.
Coca-Cola Toast and Candlelight Crossover
Undergraduates in the Class of 2016 gathered Thursday, May 5, for the Candlelight Crossover, a tradition marking their transition to Emory alumni. Students gathered for a reception and Coca-Cola Toast, then held candles as they crossed the bridge to the Miller-Ward Alumni House. View more photos.
---
Oxford College Baccalaureate and Commencement
Oxford College held its Baccalaureate service on Friday, May 6, followed by Commencement on Saturday, May 7, on the Oxford Quadrangle. Students who have completed their sophomore years at Oxford continue to Emory's Atlanta campus to finish their undergraduate education. See more photos.
---
Emory College Baccalaureate
Emory College of Arts and Sciences hosted its Baccalaureate service on the morning of Sunday, May 8, in Glenn Memorial Auditorium. The ceremony celebrated all students receiving bachelor's degrees in the Class of 2016. View more photos.
---
Emory University Commencement
Smiles abounded as an estimated 15,000 people filled the Quadrangle on the morning of Monday, May 9, for Emory's 171st Commencement, honoring graduates of all nine schools that make up the University. See more photos and read full coverage of the ceremony.
WaterHub Tours
Student-led tours of Emory's water reclamation facility
When: May 12, 2:15 p.m.
Where: WaterHub on Peavine Drive
Admission: Free
The Vega String Quartet
World premiere of Richard Prior's String Quartet No. 3
When: May 14, 8:00 p.m.
Where: Schwartz Center for Performing Arts, Emerson Concert Hall
Admission: Free
 

Shut Up and Write
When: May 17, 11:00 a.m.
Where: Kaldi Coffee or online
Admission: Free

 
 
 
 
 
 

Panel: Compassion and Global Health
When: May 23, 4:00 p.m.
Where: Rollins School of Public Health, Claudia Nance Rollins Building, Lawrence P. and Ann Estes Klamon Room
Admission: Free

 
 
 
 
 

Under the Sea: A Percussive Adventure
When: June 4, 3:00 p.m.
Where: Woodruff Health Sciences Administration Building Auditorium
Admission: Free; donations accepted for School of Medicine PA Program Migrant Farm Worker Health Project

 
 
 
Editor: Laura Douglas-Brown
Executive Director of Communication: Susan Carini
Associate Vice President for Communications and Marketing: David Johnson
Senior Vice President for Communications and Public Affairs: Jerry Lewis

Emory Report is published by  Communications and Public Affairs
Read the Emory Report Guidelines
Copyright 2018 Emory University | All Rights Reserved
201 Dowman Drive, Atlanta, Georgia 30322 USA | 404.727.6123