For Faculty and Staff of Emory University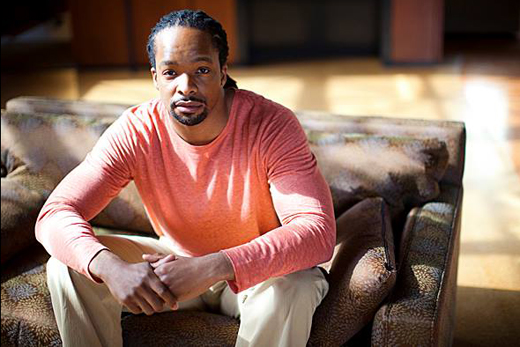 Poet and professor Jericho Brown wins Guggenheim Fellowship
Jericho Brown, associate professor of English and Creative Writing, has been awarded a 2016 Guggenheim Fellowship. Winning the prestigious award will allow Brown to work on a new book of poems, titled "Character." The collection focuses on society's obsession with celebrity and will be written in the voices of people from literature, the visual arts and film.
---
---
Diabetes incidence quadrupled worldwide from 1980 to 2014
Today is World Health Day. To mark the occasion, a new study compared diabetes levels among adult men and women. "The growth and sheer number of people affected has major implications for health care, health expenditures and health systems worldwide," notes Emory's Mohammed K. Ali, one of the study authors.
---
---
Sherman Alexie brings his 'fancydancing' to Emory
Acclaimed writer Sherman Alexie uses "fancydancing" -- a flashy, competitive style of Pow Wow dancing -- as a metaphor for his writing. His skill was clearly on display as he offered up plenty of "punch lines" and "highly biased anecdotes" to his Emory audience.
---
Emory-led aortic valve replacement study returns positive results
The one-year results of a clinical trial assessing a non-surgical treatment option for severe aortic stenosis were announced by Vasilis Babaliaros and Vinod Thourani, co-directors of the Emory Structural Heart and Valve Center, at the American College of Cardiology meeting.
---
---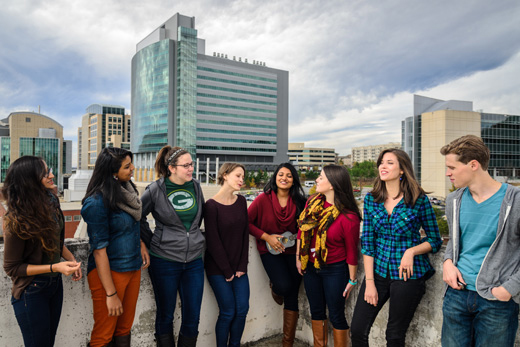 Catherine Koola: Laughing all the way
Catherine Koola (center, with ukulele) founded Rock n' Rollins, performing covers of popular songs rewritten to promote health messages. Her time at Emory has harmonized her youthful love for laughter with a holistic understanding of the public health field.
Holi Celebration
Holi, the festival of colors, is one of India's most iconic celebrations. As part of India Week, Emory observed Holi on Sunday, April 3, on McDonough Field. See more photos of the festivities.
---
Dooley's Week
Emory's skeletal mascot rose from the dead to walk the campus Monday, kicking off the annual tradition of Dooley's Week. View more photos of Dooley's debut.
Borrow a DVD: Emory's Music and Media Library offers more than 13,000 DVDs, including many popular titles, in its DVD-Lend collection. Students and qualified University staff can check out up to three DVDs for three days at a time.
"It's really something that doesn't exist in the NBA or really in almost any professional sport. ... We expect that this will be essentially the hub for professional athletes in all sports for the entire East Coast and Western Europe."
Scott Boden, Associated Press via ESPN, April 5, 2016
Jazz on the Green
An evening of outdoor jazz from the Emory Jazz Combos
When: April 7, 6:00 p.m.
Where: Patterson Green
Admission: Free
Employee Council Town Hall
Forum for faculty and staff to present questions to top University and Emory Healthcare administrators
When: April 12, 12:00 p.m.
Where: Dobbs University Center, Winship Ballroom
Admission: Free
Durufle's Requiem
Emory University Symphony Orchestra and University Chorus perform together
When: April 16, 8:00 p.m.
Where: Schwartz Center for Performing Arts, Emerson Concert Hall
Admission: Free
 
 
 
 
 

Emory Chamber Ensembles
When: April 10, 4:00 p.m.
Where: Schwartz Center for Performing Arts, Emerson Concert Hall
Admission: Free

 
 
 
 
 
 
 
 
 
 
 
 
 
 
 
 
 
 
 
 

Emory Dance Company
When: April 14, 8:00 p.m.
Where: Schwartz Center for Performing Arts, Dance Studio
Admission: $10; $8 discount category members; $6 students
Editor: Laura Douglas-Brown
Executive Director of Communication: Susan Carini
Associate Vice President for Communications and Marketing: David Johnson
Senior Vice President for Communications and Public Affairs: Jerry Lewis

Emory Report is published by  Communications and Public Affairs
Read the Emory Report Guidelines
Copyright 2018 Emory University | All Rights Reserved
201 Dowman Drive, Atlanta, Georgia 30322 USA | 404.727.6123