For Faculty and Staff of Emory University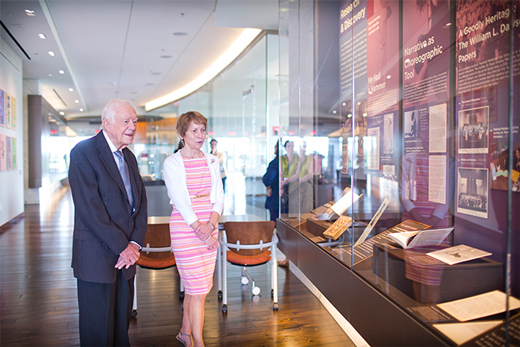 President Carter shares history and archival lessons with Emory students
In a conversation with students at Emory's Rose Library, former President Jimmy Carter shared candid thoughts on politics, history and the importance of archives to understanding contemporary issues.
---
---
---
---
---
Exhibit documents Emory nursing over the last century
Artifacts and archival documents bring an Emory perspective on nursing to life in "To Care for Others: 100 Years of Nursing at Emory," from the original 1907 graduating class of 10 to the worldwide impact of Emory nurses today.
---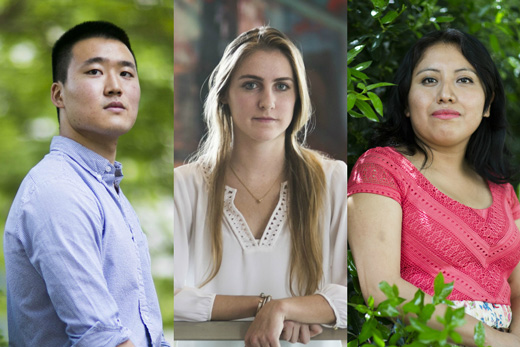 Undergraduate researchers find support through SIRE
Takuya Maeda examined educational efforts about the internment of Japanese Americans. Meghan Hickey proved that trypophobia, the fear of holes, may not be a fear at all. Dalila Vazquez Herrera explored cultural barriers to health care delivery. But these diverse student projects have one thing in common: support from the Scholarly Inquiry and Research at Emory (SIRE) program.
Shakespeare Battle
Theater Emory's 12-hour Shakespeare Anniversary Celebration kicked off at noon April 23 with a battle scene reenactment complete with broadsword and staff. Student actors fought valiantly before an appreciative audience on Patterson Green. View more photos from the battle and student performances.
Help when your usual childcare plans fall through: Emory subsidizes the cost of emergency back-up care so that University faculty, staff and graduate students can meet work or classroom responsibilities when unexpected breakdowns in routine care arrangements occur. Reasonably priced back-up care is available in childcare centers or in your home. Back-up care for elders or other adults is also available.
"This whole thing is symbolic politics. Putting women on currency is not going to change the gender pay gap and not going to change the fact that the pay gap is worse for black women and women of color."
Andra Gillespie, NBC News, April 23, 2016
Chair Rodeo
Volunteer to help set up 14,000 chairs for Commencement
When: May 4, 9:00 a.m.
Where: Emory Quadrangle
Admission: Free
Oxford College Commencement
Keynote address by Oxford and Emory alumnus Henry Anthony, vice president of human resources for Rollins, Inc.
When: May 7, 10:00 a.m.
Where: Oxford College Quadrangle
Admission: Free
In Dialogue: Conversations with the Provost
Small-group conversation focuses on strengthening faculty diversity at Emory
When: May 11, 4:15 p.m.
Where: Stuart A. Rose Manuscript, Archives and Rare Book Library
Admission: Free
 
 
 
 
 
 
 
 
 
 
 
 
 
 
 

The Vega String Quartet
When: May 14, 8:00 p.m.
Where: Schwartz Center for Performing Arts, Emerson Concert Hall
Admission: Free

 
Editor: Laura Douglas-Brown
Executive Director of Communication: Susan Carini
Associate Vice President for Communications and Marketing: David Johnson
Senior Vice President for Communications and Public Affairs: Jerry Lewis

Emory Report is published by  Communications and Public Affairs
Read the Emory Report Guidelines
Copyright 2018 Emory University | All Rights Reserved
201 Dowman Drive, Atlanta, Georgia 30322 USA | 404.727.6123