For Faculty and Staff of Emory University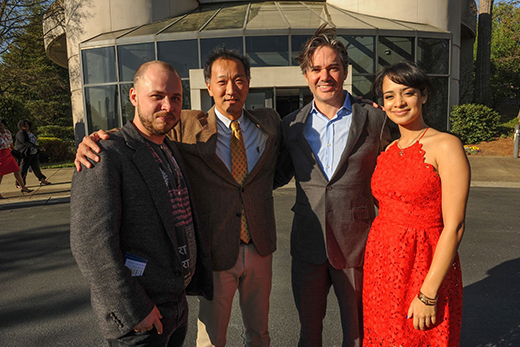 Celebrating math, miracles and a movie
An advance screening of "The Man Who Knew Infinity" at The Carter Center was a chance to celebrate Emory's connection to the film -- Ken Ono, Asa Griggs Candler Professor of Math, served as an associate producer and the math consultant. Focused on the life of Indian mathematician Srinivasa Ramanujan, who said his math formulas came to him as visions from a Hindu goddess, the film opens nationwide April 29. Learn more and see the trailer.
---
---
---
---
---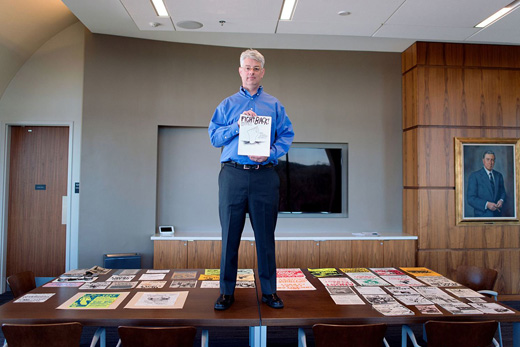 Randy Gue: Passion for punk sparks new library collection
As curator of modern political and historical collections at Emory's Rose Library, Randy Gue is always on the lookout for material that helps complete the cultural puzzle of the American South. Last year, he realized he held a piece of it himself.
National Walking Day
Healthy Emory celebrated National Walking Day on Wednesday, April 6. All Emory Healthcare and Emory University employees were invited to join in 30-minute walks stepping off from more than 20 convenient locations. View more photos and learn about ongoing group walks in Lullwater Preserve.
Charge your electric car: Don't worry about running out of juice. Level II electric vehicle charging stations powered by ChargePoint are located in the Clairmont Tower and Peavine II parking decks at Emory and in the Fleming parking lot on the Oxford College campus. You can pay by credit card or ChargePoint pre-paid card.
"There is nothing wrong with the recognition that we are apes -- smart ones perhaps, but apes nonetheless. ... We are endowed with the mental powers and imagination to get under the skin of other species. The more we succeed, the more we will realize that we are not the only intelligent life on earth."
Frans de Waal, New York Times, April 8, 2016
Wagner Appreciation Block Party
A lunch gathering to thank President James Wagner and his wife, Debbie, for their service to Emory
When: April 21, 11:30 a.m.
Where: Asbury Circle
Admission: Free
 
 
 
 
 
 
 
 
 
 
 
 

Emory Dance Company
When: April 14, 8:00 p.m.
Where: Schwartz Center for Performing Arts, Dance Studio
Admission: $10; $8 discount categories; $6 students

 
 
 
 

Escape the Room
When: April 15, 6:00 p.m.
Where: Candler Library
Admission: $10

 
 
 

Making Momos
When: April 17, 2:00 p.m.
Where: Michael C. Carlos Museum Reception Hall
Admission: $15 for members; $20 for non-members

 

Karen Freer, cello
When: April 17, 4:00 p.m.
Where: Schwartz Center for Performing Arts, Emerson Concert Hall
Admission: Free

 
 
 
 
 
 
 
 
 
 
 

Emory Big Band
When: April 19, 8:00 p.m.
Where: Schwartz Center for Performing Arts, Emerson Concert Hall
Admission: Free
Editor: Laura Douglas-Brown
Executive Director of Communication: Susan Carini
Associate Vice President for Communications and Marketing: David Johnson
Senior Vice President for Communications and Public Affairs: Jerry Lewis

Emory Report is published by  Communications and Public Affairs
Read the Emory Report Guidelines
Copyright 2018 Emory University | All Rights Reserved
201 Dowman Drive, Atlanta, Georgia 30322 USA | 404.727.6123