For Faculty and Staff of Emory University
Emory launches largest-ever clinical research study in Atlanta
Emory researchers seeking to better understand aging and age-related diseases have launched the Emory Healthy Aging Study -- the largest-ever clinical research study in Atlanta, with plans to enroll 100,000 people. The study will lead to better prevention and treatment for conditions like Alzheimer's disease, cardiovascular disease, diabetes and cancer.
---
---
---
Take a stroll on campus for National Walking Day
Healthy Emory joins the American Heart Association in celebrating National Walking Day on Wednesday, April 6. All Emory Healthcare and Emory University employees are invited to participate in 30-minute fun walks stepping off from more than 20 convenient locations.
---
---
Students prep for Dooley's Week
First there was Hollywood, then Bollywood, and now "Dooleywood" -- at least next week. Dooley's Week celebrates the movies with a packed schedule of events featuring Emory's skeletal Lord of Misrule.
---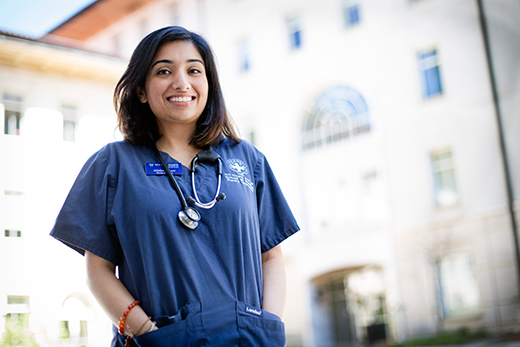 Alisha Bhimani: Finding her calling as a nurse through study abroad
As a non-native English speaker, Alisha Bhimani is acutely aware of disparities in health care, especially around language. Trips to Honduras and Italy strengthened her resolve to become a patient-centered health care provider.
Earth Month Festival
April is Earth Month, but Emory got an early start at the Earth Month Festival on Tuesday, March 29, with activities ranging from baking s'mores in a solar-powered oven to making smoothies in a bike-powered blender. View more photos and the full Earth Month calendar.
---
Wonderful Wednesday
Sunny skies greeted attendees at Wonderful Wednesday festivities March 30. The tradition harkens back to when Emory didn't have classes on Wednesday. While the mid-week break lasted only from 1967 to 1982, Wonderful Wednesday was revived in 2006 as a student-led weekly gathering featuring activities from a variety of groups.
Stressed out? Embracing and managing stress effectively is critical to your well-being. The Faculty Staff Assistance Program offers a variety of resources to assist you and your family with stress management.
Send Silence Packing
Display of empty backpacks represents lives lost to suicide
When: April 4, 9:00 a.m.
Where: Emory Quadrangle
Admission: Free
Editor: Laura Douglas-Brown
Executive Director of Communication: Susan Carini
Associate Vice President for Communications and Marketing: David Johnson
Senior Vice President for Communications and Public Affairs: Jerry Lewis

Emory Report is published by  Communications and Public Affairs
Read the Emory Report Guidelines
Copyright 2018 Emory University | All Rights Reserved
201 Dowman Drive, Atlanta, Georgia 30322 USA | 404.727.6123