For Faculty and Staff of Emory University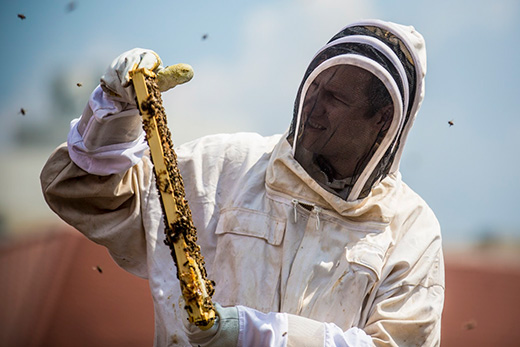 Pollinators vital to food supply facing extinction, U.N. report warns
A growing number of pollinator species that are key to the world's food supply are headed toward extinction, warns a new United Nations report -- the first global assessment of pollinators. "If pollinator declines continue at this rate, it will have serious implications not just for human food security and economics, but also for biodiversity and the health of ecosystems in general," explains Emory's Berry Brosi, one of the lead authors of the report.
---
Racial Justice Retreat expands campus conversation
About 100 students, staff and faculty members gathered Friday for a six-hour retreat to share ideas and propose future action steps intended to address demands raised by the Black Students at Emory movement. Learn more about the retreat and offer your feedback on their proposals.
---
---
Emory hosts NCAA men's basketball tournament opening rounds
Fresh from winning the University Athletic Association national championship, the Emory men's basketball team will compete in the NCAA Division III Tournament starting Friday. Emory has been tapped to host opening rounds, so find out how you can come cheer on the home team.
---
---
Emory opens Seamus Heaney's papers to public
With the blessing of the Heaney family, hundreds of letters from the late author, collected by Emory's Rose Library and spanning more than 40 years, are now fully available to researchers and visitors.
---
March: 10 things to do for under $10
From the family-friendly Atlanta Science Festival to Tibet Week and the popular Barenaked Voices concert, March brings a variety of fun, inexpensive and enlightening events to campus.
---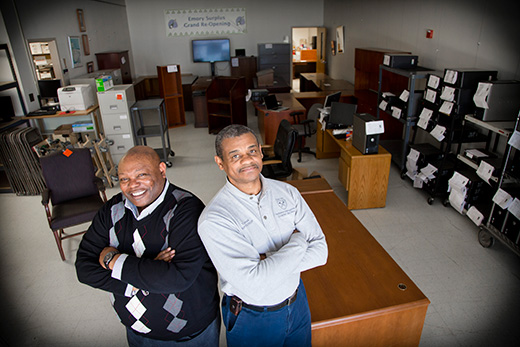 Creativity, recycling and service with a smile at Emory Surplus Property
Emory's Surplus Property is a DIY and bargain-hunter's paradise with a serious sustainability mission: to keep campus discards out of area landfills. Milton Thomas and James Harper keep customers coming back with their signature mix of good humor and great service.
Poet Rita Dove returns to Emory
Pulitzer Prize-winning poet and former U.S. Poet Laureate Rita Dove returned to Emory for two events over the weekend, serving as guest of honor at Saturday's Twelfth Night Revel and giving a free public reading on Sunday at the Schwartz Center for Performing Arts. See more photos from her visit.
Healthy lifestyle coaching: Emory employees enrolled in an Emory medical plan can receive phone-based healthy lifestyle coaching through Aetna on issues such as eating, fitness, stress management, tobacco cessation and more. Complete three coaching calls by Nov. 15 to be eligible for health insurance incentives.
"The president certainly cares about his legacy, and successfully filling the [Supreme Court] seat, overcoming the impasse with the Senate, and placing a political moderate on the bench could go a long way to burnishing that legacy during his last year."
Tom S. Clark, The Guardian, Feb. 25, 2016
2016 Pride Awards
Showcases those who work for LGBT equality
When: March 3, 6:30 p.m.
Where: Miller-Ward Alumni House
Admission: Free
 
 

Text Analysis Workshop
When: March 2, 10:00 a.m.
Where: The Aquarium, Emory Center for Digital Scholarship, Woodruff Library
Admission: Free

 
 
 
 
 
 
 
 
 
 
Editor: Laura Douglas-Brown
Executive Director of Communication: Susan Carini
Associate Vice President for Communications and Marketing: David Johnson
Senior Vice President for Communications and Public Affairs: Jerry Lewis

Emory Report is published by  Communications and Public Affairs
Read the Emory Report Guidelines
Copyright 2018 Emory University | All Rights Reserved
201 Dowman Drive, Atlanta, Georgia 30322 USA | 404.727.6123